Barbados beaches are perfect… Over 70 miles of spectacular white sand wash by the most spectacular turquoise waters you have ever seen. All the beaches are magnificent… but among these pictures perfect beaches there are some that are adored by the locals and worshiped by the tourist.
Once you visit these beaches you'll understand why life in Barbados seems to revolve around the beach… or better yet why for some life revolve around the beach bars. At these favourite spots the sands are nearly perfect, the waters are tranquil and pristine, the music is always playing …and usually the rum punches are flowing.
You can snorkel in the pristine waters, you can explore the under water world while scuba diving on the many reefs. You can picnic on the white sandy beaches, swim in the calm waters, join in a friendly game of beach volleyball or beach cricket.
Here are ten sun drench, palm fringed Barbados beaches you'll want to visit…
---
Barbados Beaches – Heywoods Beach 
---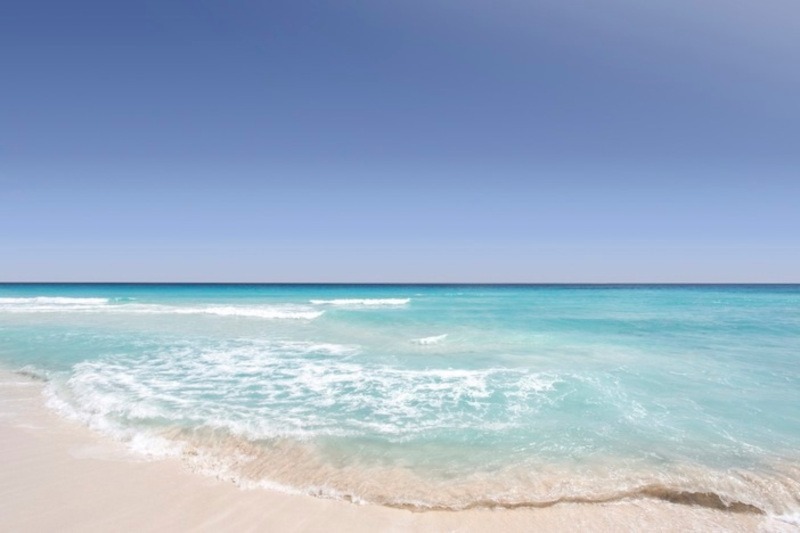 Heywoods Beach located at the northern end of the popular west coast is a beautiful quiet beach next to the former Almond Beach Village… It has a large open area that's perfect for swimming. Heywood's is the coolest of all Barbados beaches with its smaller rock enclosed pools that are perfect for children to wade in… the shallow reefs are also perfect for your Barbados snorkeling adventures.
---
Barbados Beaches – Speightstown Beach 
---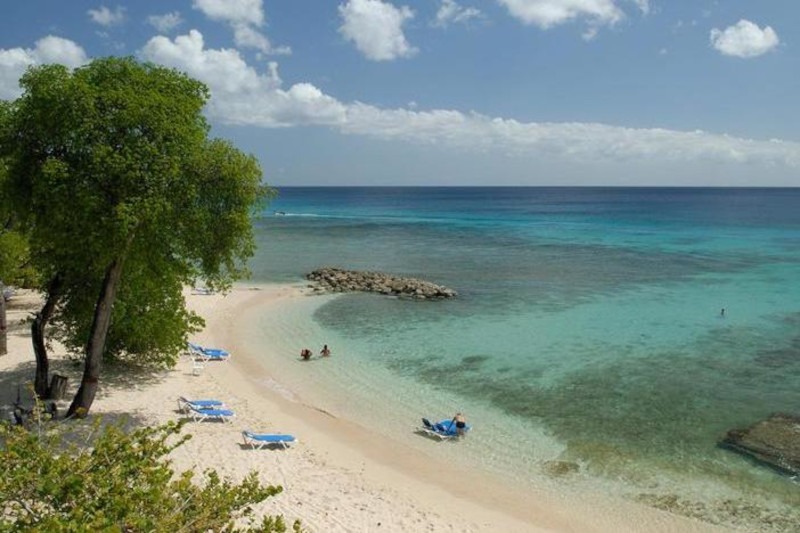 Of the Barbados beaches in the north Speightstown Beach is arguably one of the most magnificent stretches of beach on the island. Its tranquil pristine water is excellent for swimming and snorkeling and a variety of other water sports. The beach at Speightstown is one of the last nesting ground for the Hawksbill sea turtle.
In addition this beach is also home to the larger Leather-back turtle. Speightstown beach is popular with both tourist and locals for a number of reasons it is accessible with adequate parking nearby.
Learn more about Speightstown beach
---
Barbados Beaches – Mullins Beach 
---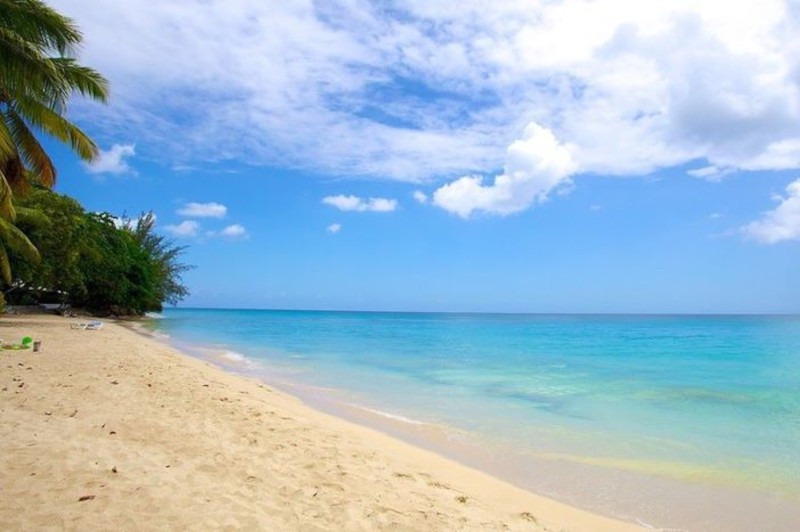 Mullins is one of the more popular Barbados beaches, located in the northern parish of St. Peter, it is a beautiful palm fringe beach on Barbados popular west coast. Over the years this beach has become one of the more popular Barbados beaches for both both locals and tourist.
On a hot day the Casuarina and palm trees lining this beach provide ample shade. It really is the ideal place to you grab a drink from the beach bar and just relax in your lounge chair, take a swim in the roped off areas, or enjoy the excitement of a jet-ski ride
Learn more about Mullins Beach
---
Barbados Beaches – Brandons Beach 
---
Brandon's Beach is a beautiful white sandy beach located a 2 minutes drive from the historic city of Bridgetown in Barbados. This wonderful beach is at the southern end of the island's famous west coast. The beach close proximity to the Bridgetown cruise terminal makes it a great day hangout for tourist visiting the island on a cruise.
As part of the island's west coast the waters here are tranquil which makes it the perfect place to swim or just soak in the warm waters. You'll also have access to bathroom facilities, beach volley ball, watersports activities and of course there is Rascal's restaurant serving delicious Caribbean cuisine.
Learn more about Brandons Beach Barbados
---
Barbados Beaches – Browns Beach 
---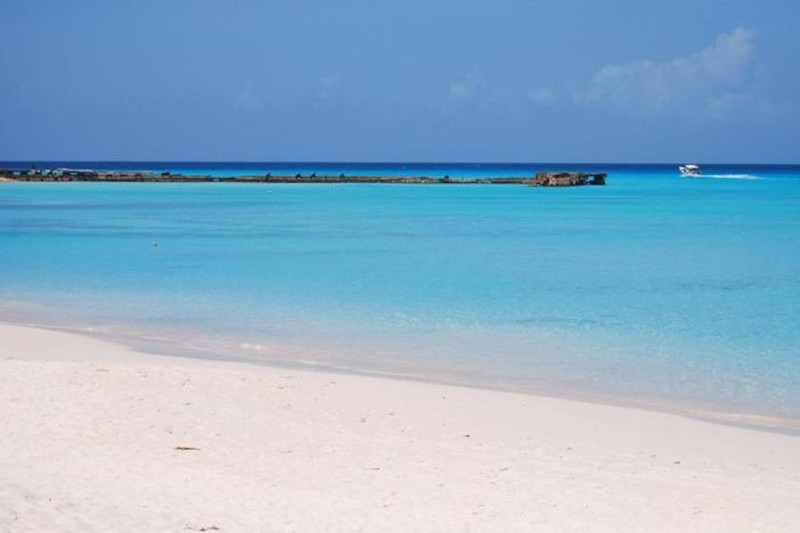 Browns beach located at the southern end of the Historic city of Bridgetown is another one of the popular Barbados beaches… usually is a hive of activity. It is one of the beaches that you'll a lot of locals anytime of the day.
You'll only find large crowds on this beach on weekends when the locals are there.
Browns Beach close proximity to the Bridgetown port and cruise terminal also ensure that a large number of cruise passengers can be seen soaking up the sun at this popular beach.
Learn more about Brownes Beach in Barbados
---
Barbados Beaches – Rockley Beach
---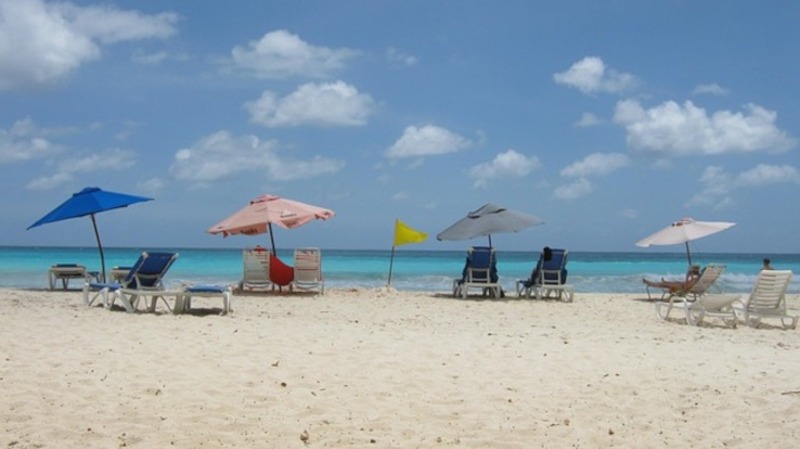 At Rockley on the South coast, like the rest of Barbados life resolves around the sea. It is here that you will find Rockley Beach – Accra Beach. Are you wondering why the two names? Well the official name of this popular white sand beach with the spectacular turquoise waters is Rockley Beach… But to locals and visitors the beach is known as Accra Beach.
The most picture perfect of all Barbados beaches, Accra is extremely popular with the locals, especially on weekends and public holidays, when people from all over the island travels to Accra Beach to picnic, body-surf and bathe in the calm waters. Located next to the popular Accra Beach Hotel and Spa there are also lots of visitors enjoying the friendly atmosphere on this beach.
Learn more about Rockley Beach Barbados
---
Barbados Beaches – Crane Beach 
---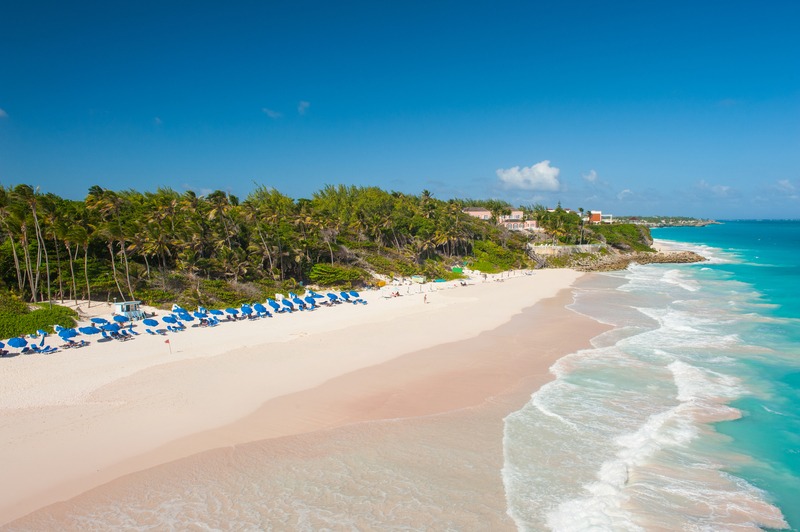 Crane Beach is a spectacular pink sand beach located in St. Philip on the south east coast of Barbados. Of all the Barbados beaches this beach was rated by Lifestyles of the Rich and Famous as "one of the ten best beaches in the world".
You only have to visit this beach to see why, cliffs, plenty of vegetation, the soft pink sand, spectacular turquoise waters gently kissing the shore, a safe area swim and The Crane Beach Hotel
Learn more about Crane Beach Barbados
---
Barbados Beaches – Bottom Bay Beach
---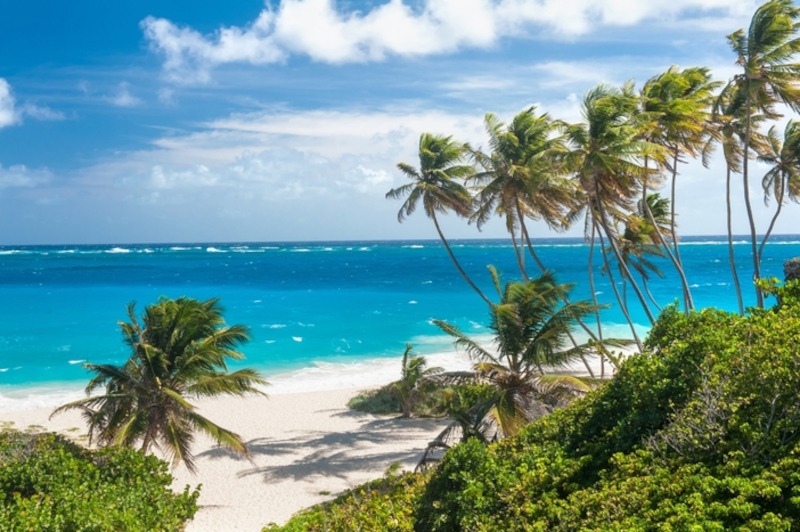 If you are a beach lover you'll definitely love the beach at Bottom Bay… It's perhaps one of the most idyllic of all the Barbados beaches… Cliffs, a cave, coconut palms, powdery white sands, cooling breezes and spectacular turquoise waters. Located on the Southeast Coast of the island Bottom Bay beach is one of the most secluded of all the Barbados beaches.
The big waves make it a great place for surfing while its wide powdery beach is perfect for picnicking. The East Coast of Barbados is known for its big waves and dangerous undercurrents.
Learn more about Bottom Bay Beach Barbados
---
Barbados Beaches – Bath Beach 
---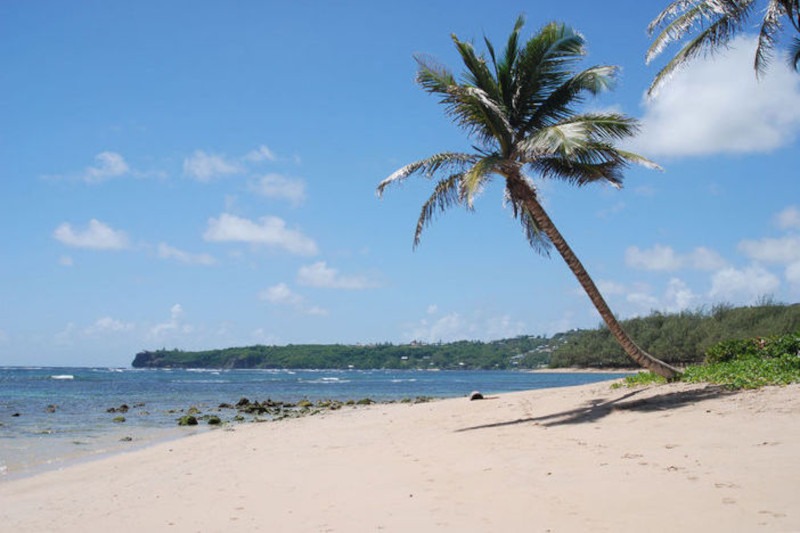 Bath Beach located in St. John on the magnificent East Coast clearly highlights the uniqueness of Barbados as an island destination offering something for everyone. Although Bath beach is located on the usually pounding Atlantic coast,.
It is quiet safe to bathe and swim here because this beach is shield by a large offshore reef. So you get to enjoy the scenic beauty of the East Coast while enjoying the tranquility more associated with the West and South Coast beaches.
---
Barbados Beaches – Bathsheba Beach 
---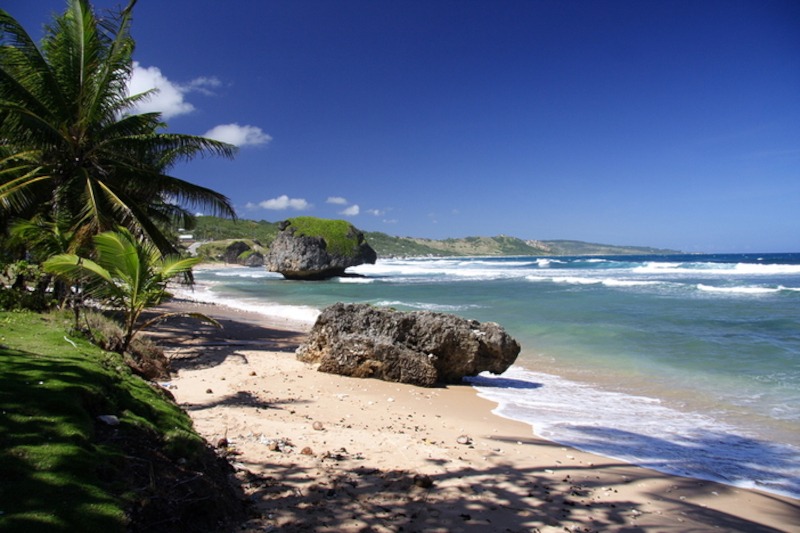 Bathsheba Beach in St. Joseph is one of the most recognized of all the Barbados beaches… located on the rugged and beautiful Atlantic Coast of Barbados. Popularly known as the Soup Bowl this piece of paradise is a highly rated international surf spot. At Bathsheba the big waves and pounding surf make this area perfect for surfing.
Surfers from around the world come to the world-renowned Soup Bowl at Bathsheba to take part in international surfing competition. Visit during this time of the year and… There is a lot of action on this spectacular stretch of beach.
As a matter of fact, it's one big surfing adventure!! Actually, it really is a big surfing competition and family outing… The best time to enjoy the big waves and perfect surfing conditions at Bathsheba are between August and November.
Learn more about Bathsheba Beach Barbados
---
More Spectacular Barbados Beaches
---
Of course these are not the only beautiful Barbados beaches, with over 70 miles of spectacular white sand beaches there are many more, each with its own unique characteristics. Here are some more beaches
---
Barbados Beaches on The North Coast
Cove Bay Beach
Little Bay Beach
River Bay Beach
Cluffs Beach
Archers Bay Beach
Barbados Beaches on The West Coast
Six Mens Beach
Folkstone Beach
Holetown Beach
Sandy Lane Beach
Paynes Bay Beach
Pile Bay Beach
---
Barbados Beaches on The South Coast
Pebbles Beach
Drill Hall Beach
Sandy Beach
Dover Beach
Maxwell Beach
Welches Beach
South Point Beach
Long Beach
Barbados Beaches on The East Coast
Foul Bay Beach
Harrismith Beach
Ragged Point Beach
Martins Bay Beach
---
Barbados Beaches with Lifegaurd Stations
---
Here we have listed the Barbados beaches where you'll find a lifeguard station. There is an old Barbadian saying that "the sea ain't got no back door" this is generally given as a word of advise to enjoy our beautiful beaches in a safe way.
On occasions you'll notice red or yellow flags on some of our beaches especially during bad weather. The yellow flag posted on the beach means that the sea conditions are risky and caution should be exercised when swimming. The red flag indicates that there should be no swimming at all so please stay out of the water on these occasions.
See the list of Barbados beaches with lifeguard stations below…
---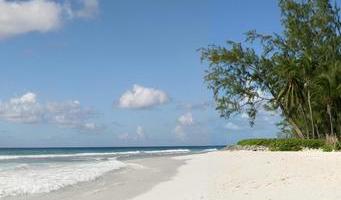 Accra Beach Hotel is located on one of the most spectacular beaches on Barbados active South Coast. Read more about Accra Beach Hotel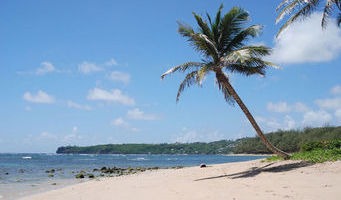 Barbados Beach Club Hotel is an all-inclusive family resort with an excellent range of facilities. Read more about Barbados Beach Club Hotel
---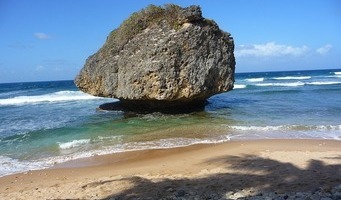 Bathsheba is located on the East Coast of Barbados, there are a number of dangerous undercurrents at this beach. Please check with the lifeguards on the safest area to paddle around. Learn more about Bathsheba Beach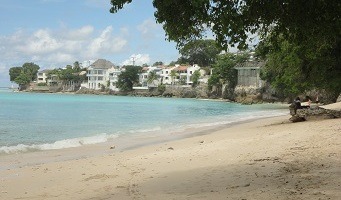 Batts Rock beach is small bay situated on the West Coast just a short drive from the island's capital Bridgetown. You will find a lifeguard station on this child friendly beach. Learn more about Batts Rock Beach
---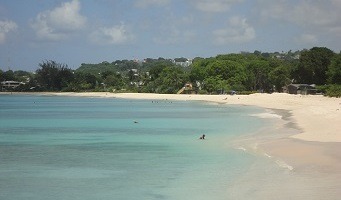 Brandon's beach is the ideal beach located 10 minutes walk from the Bridgetown cruise terminal. This beach has toilets, shower facilities and the popular beach bar Rascals, a lifeguard station and beach security. Learn more about Brandon's Beach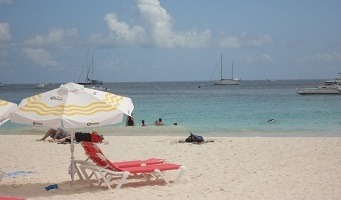 Browns Beach is located just 5 minutes drive from Bridgetown. There is a lot of activity on this beach. Lifeguards, shower, toilet facilities and a number of beach bars all combine to make this the ideal beach. Learn more about Browns Beach
---
Carlisle Beach is located south of Browns beach it is another popular tourism spot. There are lifeguards on duty here this makes this beach ideal for swimming and family picnics. Learn more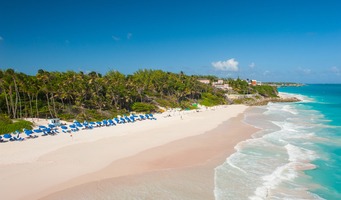 Crane Beach is located right next to the Crane Hotel, here you'll find moderate waves, white sands and turquoise waters. This beach also has a lifeguard station which makes it the perfect place for a fun family day out. Learn more about Crane Beach
---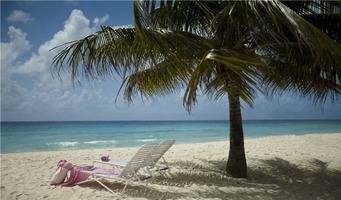 Dover beach is located in the popular St. Lawrence Gap this beach is popular for a variety of water sports. Although the waters are very calm in this area you'll find a lifeguard is on duty to ensure your safety.. Learn more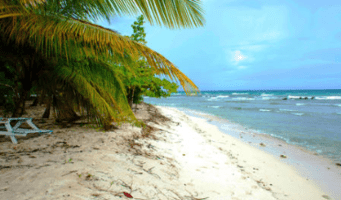 Drill Hall Beach is directly opposite the Garrison Savannah, it is known as one of the best surf stops on the island. However if you're not a surfer this is still a great beach with plenty of shade. You'll also find lifeguards available on this beach. Learn more
---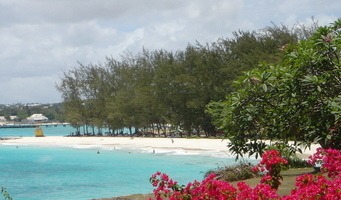 Miami Beach, also known as Enterprise Beach, is a popular beach located just outside the Oistin's fishing village in Barbados. You will find a lifeguard on duty at this beach. Learn more about Miami Beach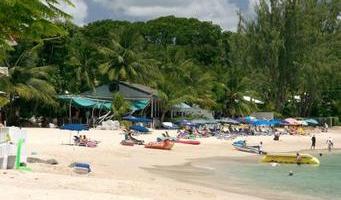 Heywood's Beach is a white sand beach with tranquil waters located in St. Peter on Barbados west coast. It feature a small rock pool that is ideal for families or couples. It's the ideal spot to relax and watch the sun set during the evening period.. Learn more
---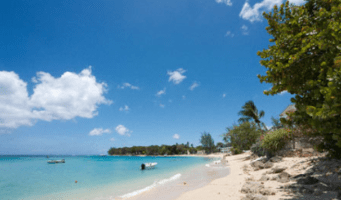 Holetown beach is one of the popular beach limes on Barbados famous west coast. This is a small beautiful beach with turquoise waters and soft white sand. It's location in the heart of this small historic town provides easy access to a number of restaurants and bars.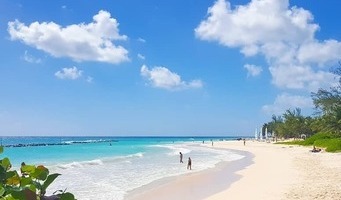 Maxwell Beach is a spectacular popular beach on the South Coast of Barbados. Like most of the beaches on the island this beach is characterized by golden sands, blue sea and palm trees. Its close proximity to a number of hotels and restaurants make this beach the perfect place to relax and chill.
---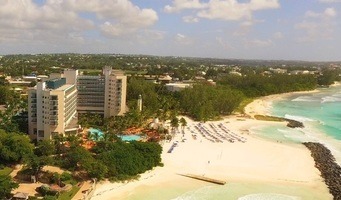 Needham's Point Beach is a soft, white sand beach located just outside the Hilton Barbados. This beach is washed by the calm Caribbean sea hence swimming and snorkeling are popular activities here. There is plenty of shade which adds to its attraction as a hangout spot to beach goers.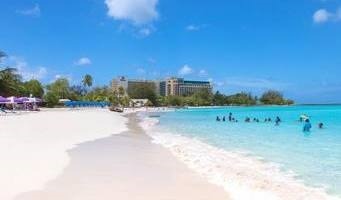 Pebbles Beach, is a wonderful dreamy beach located next to the Hilton Hotel on Barbados southern coastline. Its location close to the hotel makes it a another popular tourist spot, that's perfect for swimming and family picnics. It's a popular bathing spot for locals as well, there are also lifeguards on duty on this beach. Learn more
---
Barbados Beaches are Home to Some Amazing Beach Bars
---
Of course these Barbados beaches are characterized by soft white sands, spectacular shimmering waters and tropical palms. However what sets them apart is the amazing beach bars to be found nearby. Here is a look at some of these action pack beach bars.
---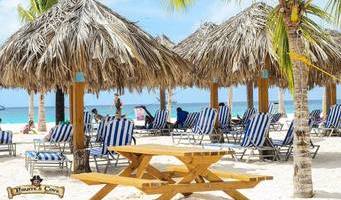 Of all the Barbados beach bars Pirates Cove is a must visit whether you are a local or a visitor on holiday to our island paradise. Pirates Cove is a relatively new beach bar & grill located at the northern end of Browns Beach. Learn more
The Tiki beach bar is a casual bar and restaurant located on the water's edge on the beautiful and very popular Rockley Beach on Barbados' south coast. Learn more
---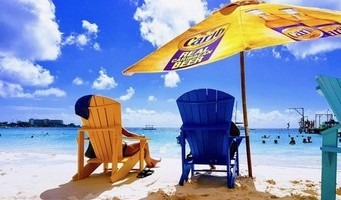 The Boatyard Barbados is more than a beach bar but truth be told it is perhaps the most fun spot on the island… whether it is a beach bar, a night club or restaurant it is the place to be. Learn more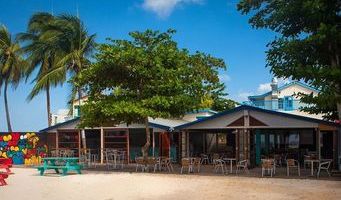 Copacabana is an action pack beach bar and grill located on a white sandy beach a short distance south of Bridgetown. As they say every hour is happy hour at this beach bar where the house DJ keeps you rocking to the island's favorite jams. Learn more
---
Mullins Beach Restaurant & Bar is set on a tranquil white sand beach on Barbados famous west coast… Its beach-side location allows guest to dine mere feet away from the most spectacular turquoise waters of the Caribbean Sea. Learn more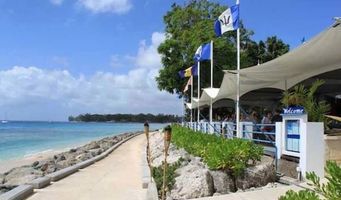 The Beach House is an ocean front family friendly restaurant and bar located at the center of historic Holetown on Barbados popular west coast. This popular beach front restaurant and bar is open from 11am for coffee and drinks with an all-day menu served from noon. Learn more
---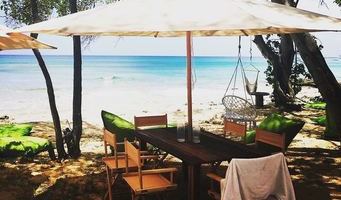 On the cozy Batts Rock beach you find La Cabane Beach Bar and restaurant. This open-air beach bar is a wonderful addition to the dining experience on Barbados popular west coast. Visit La Cabane and enjoy the relaxed laid-back atmosphere that makes this beach a great place to hang out. Learn more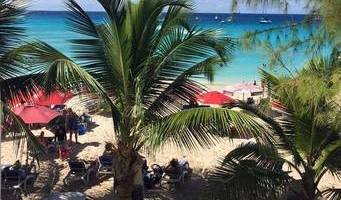 Dippers Beach Bar is located at the Barbados Cruising Club on Pebbles Beach, Dipper's is a great place to relax and enjoy a cold drink and delicious affordable food. Family fun on Pebbles Beach doesn't get any better as you enjoy the crystal clear water and the idyllic sandy beach of Carlisle Bay. Learn more
---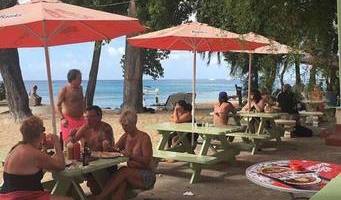 Surfside Beach Bar and Restaurant – is another popular hang out located on the beach at Holetown on Barbados popular West coast. You'll find this beach bar and restaurant sitting on a beautiful white sand beach a short distance away from the hustle a bustle of this small town. Learn more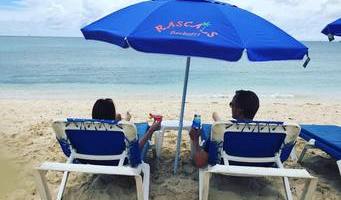 Rascals Beach Bar located on the beautiful Brandon's Beach in St. Michael is the closes beach bar to the Bridgetown cruise terminal. This makes this bar the ideal location for visitors who drop into the island on the many cruise ships every year. Learn more