The question is often asked, what makes Barbados Scuba diving different?
For starters, the island has been blessed with near-perfect weather all year-around. So there is plenty of time to enjoy the picture-perfect beaches and the most spectacular crystal clear waters you have ever seen.
But there are more… Year-round diving conditions; two distinct barrier reefs along with fringe reefs, fascinating shipwrecks, easy access, a wide variety of marine life, water temperatures in the 80's, and underwater visibility of 70′ – 80′. All combine to make Barbados a scuba diving paradise.
---
Barbados Scuba Diving Frequently Asked Questions
---
---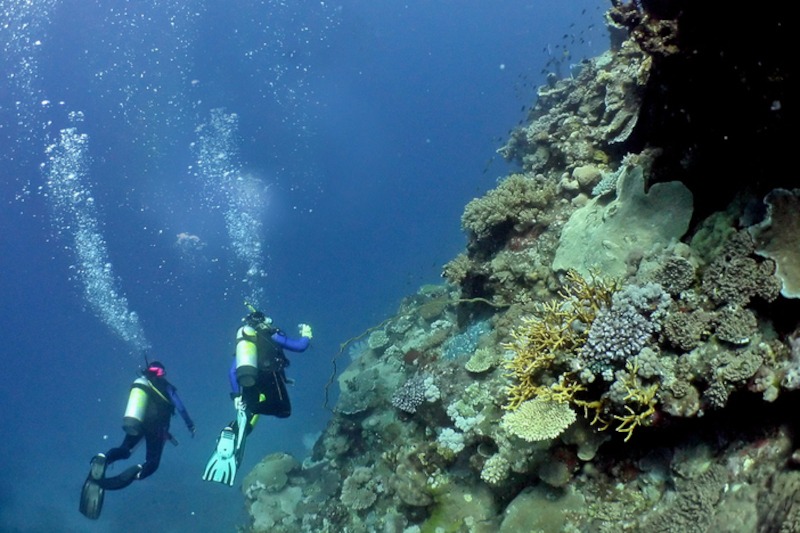 ---
---
Scuba diving in Barbados mainly occurs on the island's sheltered west and south coast. Here you'll find two distinct barrier reefs and some magnificent shipwrecks combined to create some brightly coloured coral gardens. These outstanding coral gardens are home to some rare marine species like seahorses and frogfish.
Along with these rare species, there is an abundance of small tropical reef fish like grunts, snappers, and chubs and larger open ocean fish like sting rays, eels, and eagle rays. In addition, the famous sponges can be found in a multiplicity of colours like orange, yellow, purple, and green.
The occasional sighting of lobsters, the Hawksbill, and leatherback turtles make up a vibrant coral reef community. That adds to the magic of the Barbados scuba diving experience.
---
Barbados Scuba Diving Sites
---
You will find a number of exhilarating Scuba diving sites on the island's west and south coasts. These exciting dive sites extend from Maycock's Bay on the North West coast to the South Winds Fringe on the southwest. The Barbados dive sites range from 10ft to 130ft, shallow and deep reef dives with a large quantity of some of the most exotic tropical fish and marine life you can imagine.
You will also find that this magical world beneath Barbados' crystal clear waters is more than just the natural reefs.
You can also explore many shipwrecks, including a French tug boat sunk during World War 1, and the shipwreck of all shipwrecks the imposing Stavronikita.
So if you want the experience of being up close and personal with a plethora of beautiful tropical fish and spectacular coral reefs, scuba diving is a great way to see the wide variety of marine life that lives on the wrecks and coral reefs that run the entire length of the west and south coasts.
A number of fascinating dive sites, qualified dive instructors, and a fully functional decompression chamber add to the island's scuba diving experience.
---
Barbados Scuba Diving Booking Form
---
---