The Barbados family resorts listed here have a long tradition of hosting holiday seekers. There are so many wonderful hotels and resorts on the island but we have chosen these 10 as a starting point. We are sure you will be able to find an accommodation package to ensure that your trip together is memorable.
These family-friendly resorts are the perfect way to spend your holiday together. Barbados is perhaps the most idyllic of all the Caribbean islands! Picture-perfect beaches, spectacular turquoise waters and exotic tropical gardens all combined to make the island a great getaway for families.
But there is more to this tropical paradise than spectacular natural beauty. Friendly people, a number of world-class restaurants and a wide selection of interesting things to do will allow you to create wonderful memories with your family.
Here are some of the top Barbados family resorts
---
Barbados Family Resorts Frequently Asked Questions
---
The best family-friendly resorts in Barbados are the Hilton, Sandy Lane, Bougainvillea Beach Resort, The Fairmont Royal Pavilion, Turtle Beach Resorts, Beach View Hotel, Divi South Winds, The Coral Reef Club and the Savannah Beach Hotel.
Barbados is an excellent destination for a family vacation. Just imagine your vacation with breathtaking oceanfront views, sandy beaches, lush tropical gardens, delightful cuisine and plenty of things to do.
Yes, there are all-inclusive family resorts in Barbados, they are Turtle Beach Resort, Sugar Bay Hotel, Crystal Cove By Elegant Hotels, Mango Bay and Waves Hotel & Spa by Elegant Hotels
---
Hilton Hotel Barbados Family Resorts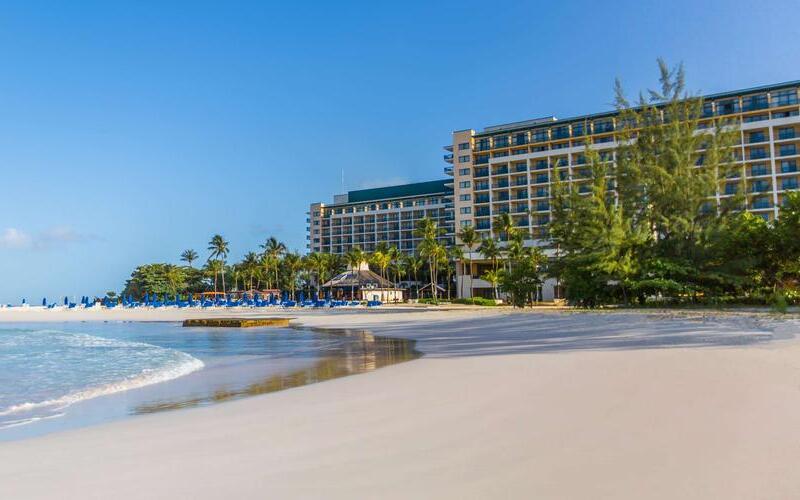 You'll find this Barbados family resort… Set amidst exotic tropical gardens and surrounded by two of the most magnificent soft white sand beaches you can imagine.
The Hilton also lies in close proximity to a number of interesting attractions. These include visits to George Washington House, The Barbados Museum and Historical Society and all of the area known as the Garrison Historic area.
There really are lots of things to see and do if your family is vacationing at the Barbados Hilton Hotel. Click here to compare rates and check availability for the Hilton Barbados.
---
Sandy Lane Barbados Family Resorts
---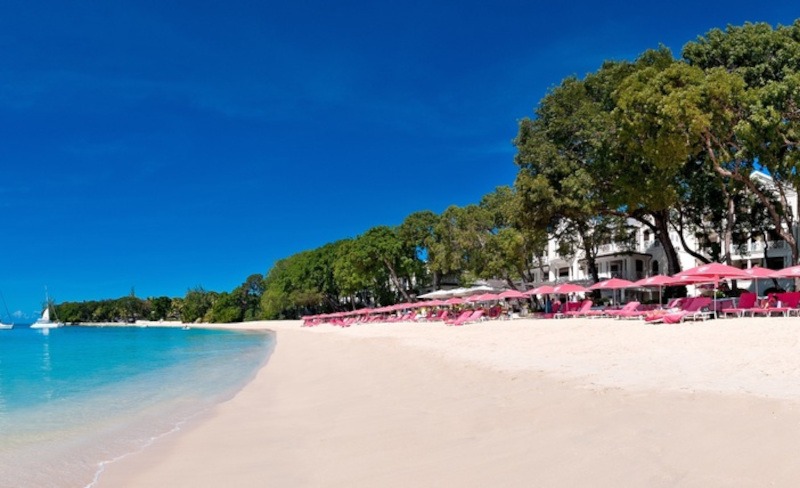 Sandy Lane is one of the most luxurious Barbados family resorts. It has been widely regarded as the preferred hotel of the rich and famous. At Sandy Lane, you'll find one of the most engaging family settings anyway on the island.
This Barbados family resort is tucked away amidst a grove of mature mahogany trees and surrounded by lush tropical gardens. However, the beautiful gardens pale in comparison to the spectacular white sandy beach.
And the breathtaking views of the gorgeous turquoise waters of the Caribbean sea that lapped the beachfront of this amazing family getaway. To learn more about rates and availability at the Sandy Lane Barbados
---
Bougainvillea Beach Barbados Family Resorts
---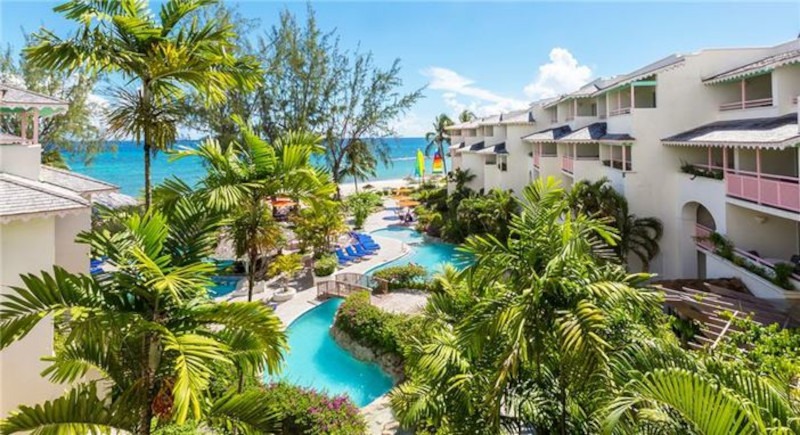 Our Barbados family resorts wouldn't be complete without Bougainvillea Beach Hotel. This modern oceanfront hotel captures the essence and allure of the Caribbean. Warm tropical weather, spectacular white sandy beaches and the friendliest people you'll ever meet.
At Bougainvillea Beach Resort you'll find endless options and all the comforts of a full-service hotel, ideally suited to families and couples alike. Relax, unwind and fall in love with all that makes this resort uniquely unforgettable.
Located on one of the finest beaches on Barbados' southern coast, Bougainvillea Beach Resort is the perfect destination for your family vacation. Click here to learn more about rates and availability at Bougainvillea Beach Hotel Barbados.
---
Fairmont Royal Pavilion Barbados Family Resorts
---
The Fairmont Royal Pavilion is the perfect Barbados family resorts nestle amidst lush tropical palm-filled gardens, right on one of the gorgeous white sand beaches on Barbados' platinum coast. This elegant hideaway is the ideal place where you can create memories to last you a lifetime. Ideally, this prestigious 5-star Fairmont resort offers 72 well-appointed guest rooms with balconies and deluxe amenities.
All within 15 miles of the Grantley Adams International Airport and a short drive from historic Holetown, the vibrant capital city of Bridgetown, and numerous attractions. Click here to check rates and availability at Fairmont Royal Pavilion Barbados.
---
Turtle Beach Barbados Family Resorts
---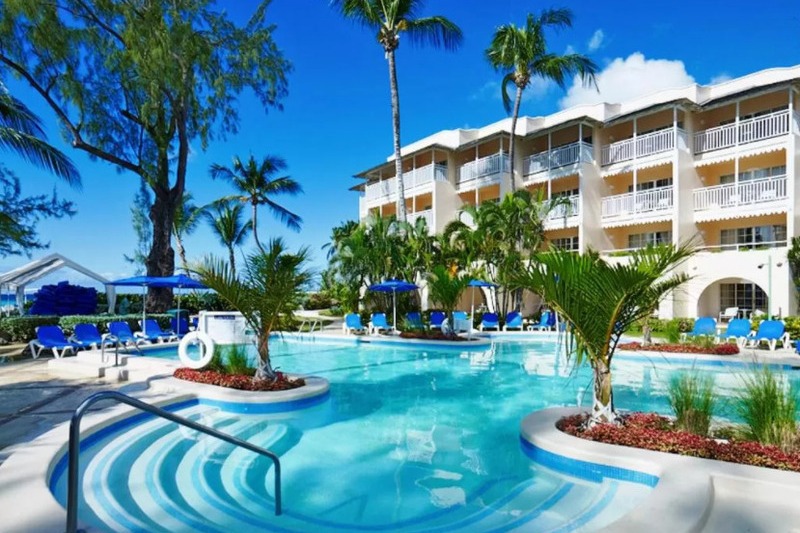 Turtle Beach Resort Is a reminder that life in this quiet Barbados fishing village revolves around the sea. This hotel like most of the other Barbados family resorts is situated amidst lush tropical gardens, and the best nightlife and is fringed by 1500 fleet of white powdery beaches and spectacular turquoise waters. Turtle Beach provides the perfect place to celebrate the ideal holiday memories with your loved ones.
There is more to this resort than its close proximity to spectacular white sand… It is 15 minutes away from the Grantley Adams International Airport. This Barbados hotel is also a stone's throw away from some of the finest water sports on the island, exquisite cuisine and great entertainment. Click here to learn more about rates and availability at Turtle Beach Resort Barbados
---
Beach View Hotel Barbados Family Resorts
---
Another one of our picks for high-quality Barbados family resorts is the Beach View Hotel. A charming hotel located on a buff across from the pristine waters of Payne's Bay on Barbados' west coast. This hotel is highly rated for its well-maintained rooms and friendly staff.
This family-operated hotel has several modern amenities like a spa, gym and salon. In addition, Beach View sits just across the road from the spectacular turquoise waters of Payne's Bay beach. The hotel is also located 2 mins away from historic Holetown where you'll find plenty of bars and restaurants as well as the popular Lime Grove Mall.
The accommodation at this Barbados family resort comprises a selection of stylish rooms, suites and villas. All feature a modern kitchenette, living and dining area and private terrace or balcony. Click here to learn more about availability and Rates at Beach View Barbados
---
Divi South Winds Hotel Barbados Family Resorts
---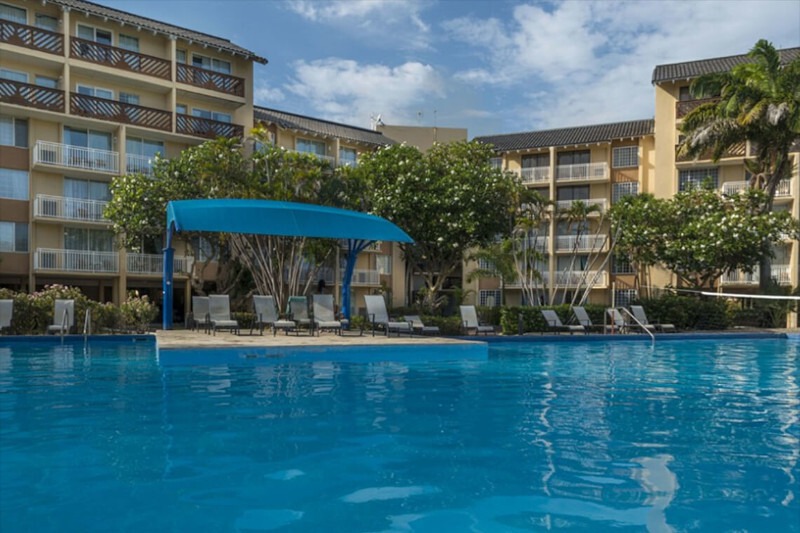 Divi South Winds is an all-suite Barbados family resort located in the popular St. Lawrence Gap on the island's south coast. The resort's close proximity to nightlife, the Grantley Adams International Airport and The Oistin's Friday Night Fish Fry make this 130-suite Barbados family resorts the ideal place to set up base for your holiday.
In addition, Divi Southwinds' location in the action pack St. Lawrence Gap means that it is approximately 4 miles from the capital city of Bridgetown. And it even gets better its location on Dover beach with its spectacular white sands and tranquil waters make Divi Southwinds Beach Resort ideal for families.
Divi is the ultimate vacation spot for a wonderful family vacation. There are a number of amenities for both parents and kids. These include a children's playground, three freshwater swimming pools, two restaurants, an open-air beachfront cafe, a miniature golf course and a poolside lounge. Click here to learn more about availability and Rates at Divi South Winds Beach Resort.
---
The Coral Reef Club Barbados Family Resorts
---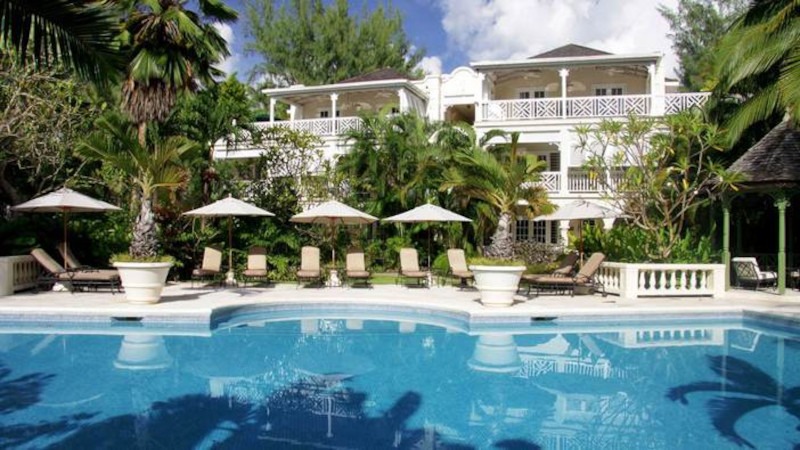 Coral Reef Club is a small upscale 88-room Barbados family resort, set amidst twelve acres of beautifully landscaped gardens. This is the perfect family getaway located on a picture-perfect beach on Barbados' platinum coast.
The family facilities at Coral Reef include babysitting services. baby equipment like cribs, high chairs and baby monitors are all available upon request. In addition, there is a specially designed family program for children between the ages of 2 and 12 years.
Please note there is a child-free period between 20th January and 28th February. Click here to learn more about rates and availability at Coral Reef Club Barbados.
---
Sugar Bay Barbados Family Resorts
---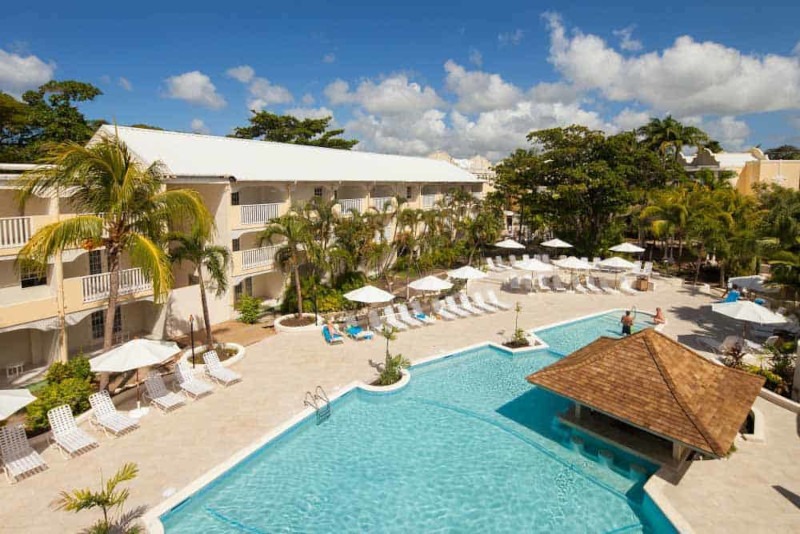 Sugar Bay Hotel is a wonderful family-owned four-star premium all-inclusive resort. This Barbados family resort is located within the Garrison historic area a UNESCO World Heritage site.
It sits within walking distance from the Garrison Savannah where you can indulge in the sport of horse racing on weekends and the island's historic capital city Bridgetown with all its duty-free shopping, and great restaurants and bars for your entertainment.
This hotel offers activities designed for children of all ages and there are amenities like a kids club and teen clubhouse as well as babysitting services upon request baby cots and high chairs are also available. Click here to learn more about rates and availability at Sugar Bay Barbados All Inclusive.
---
Savannah Beach Hotel Barbados Family Resorts
---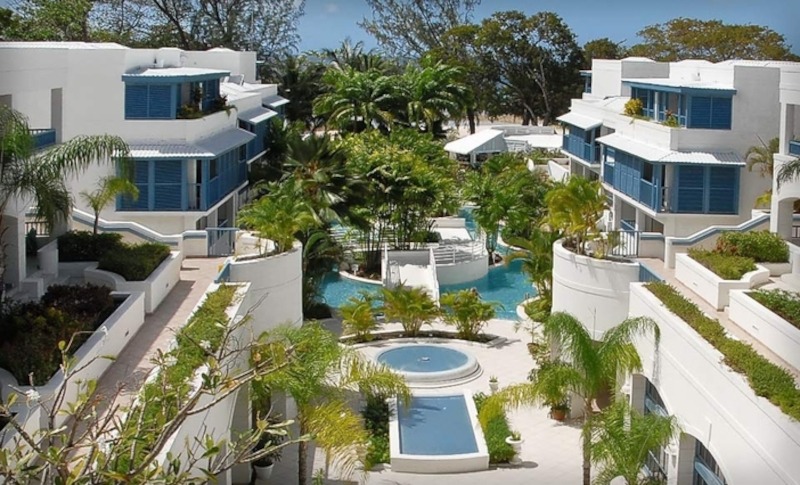 The Savannah Hotel is located just on the outskirts of what is known as the Garrison Historic Area a World UNESCO Heritage site. A look back at the history of this near 200-year-old hotel would show why this property fits perfectly into this Barbados heritage site.
One of the up-market Barbados family resorts on the south coast The Savannah beach hotel is the ideal blend of the traditional and the modern… its original two-hundred-year main building is nicely complimented by the ultra-modern architecture and tropical foliage of its newly built extension.
The Savannah offers guest travelling with children a fun family entertainment centre featuring a supervised kids' club for children aged 3-12 years, open 5 days a week. There is also a general family room which boasts a pool table, football table, darts, table tennis and a basketball game machine. Click here to learn more about rates and availability at The Savannah Beach Hotel Barbados.
---