You will find a number of posh Barbados west coast hotels occupying the island's famed platinum coast. On this coast, you will find gorgeous beaches, meticulously landscaped villas, gated resort communities, up-scale restaurants and stores. The West coast of Barbados includes the parish of St. Peter and St. James.
The Barbados west coast hotels and resorts stretch from the charming Little Good Harbour located just North of Speightstown. To the beautiful Waves Hotel in the south.
The hotels on this coast are located within close proximity to a number of attractions and restaurants in the north of the island. These include The Barbados Wildlife Reserve, Morgan Lewis Windmill, St. Nicholas Abbey, and the Animal Flower Cave.
The west coast also offers a variety of shopping options these including renowned brands like Diamonds International, Little Switzerland, and Columbian Emeralds. Along with these popular duty-free stores, you'll find our very own Cave Shepperd which also stocks a wide range of duty-free items including souvenirs and designer clothing.
---
Barbados West Coast Hotels Frequently Asked Questions
---
---
Barbados West Coast Hotels
---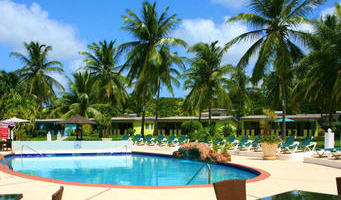 All Season Resort Europa is a tranquil and hospitable, 48-room resort set amidst tropical gardens. This resort is the ideal getaway for you to relax & unwind in a laid-back atmosphere. Read more about All Season Resort Barbados.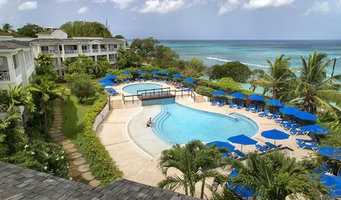 Beach View is a small all-suite self-catering hotel set amidst 3 acres of beautifully landscaped gardens, just across the road from the spectacular turquoise waters of Paynes Bay Beach on Barbados famous west coast. Read more about Beach View Barbados
---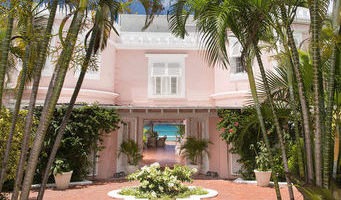 Cobblers Cove is a charming spacious beachfront hotel located on a spectacular white sand beach on Barbados famous West Coast. Of all the Barbados hotels this is one of the island's most idyllic hide-ways. Read more about Cobblers Cove Barbados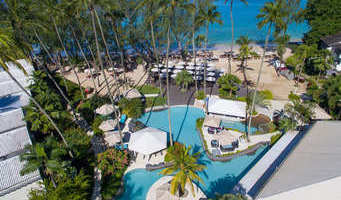 At Colony Club, you will find endless ways to relax and indulge yourself in the sophisticated elegance of this tropical paradise. Read more about Colony Club Barbados
---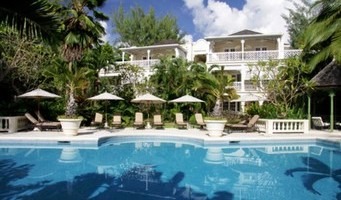 Coral Reef is one of the charming Barbados hotels situated amidst twelve acres of pristine tropical garden on the west coast. Read more about Coral Reef Club Barbados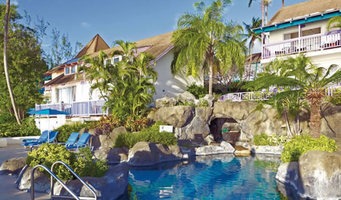 Crystal Cove Hotel sits on an oceanfront cliff on Barbados gorgeous West Coast. This all-inclusive hotel combines a relaxed, laid-back ambience with sophisticated elegance and a friendly atmosphere. Read more about Crystal Cove Barbados
---
Barbados West Coast Hotels
---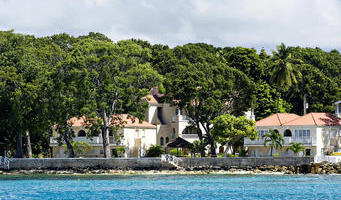 Divi Heritage Resort is a small intimate hotel featuring oceanfront villas on Barbados breathtaking platinum coast. This Barbadian hotel caters to an exclusive adult population over the age of 16. Read more about Divi Heritage Resort Barbados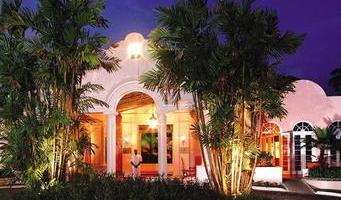 The Fairmont Royal Pavilion is a haven of luxury and serenity set amidst lush tropical gardens dotted with gently swaying palm trees. This hotel blends old-world grace with stunning scenery. Read more about Fairmont Royal Pavilion Barbados
---
Little Good Harbour is a charming small hotel on Barbados tranquil West Coast. Nestle amidst two lush gardens lots of activities awaits you. Read more about Little Good Harbour Barbados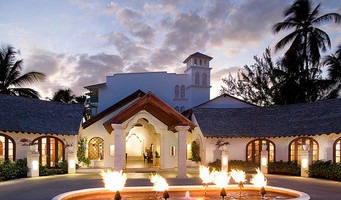 Mango Bay Hotel is located on the west coast of Barbados this hotel is the perfect getaway for those looking for the convenience of an all-inclusive holiday. Read more about Mango Bay Hotel Barbados
---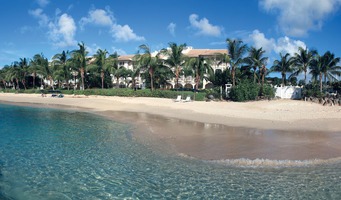 Port St Charles villa resort is an exclusive residential marina located on the beautiful West Coast of Barbados. It offers breathtaking beachfront views as well as lagoon views. Read more about Port St. Charles Barbados.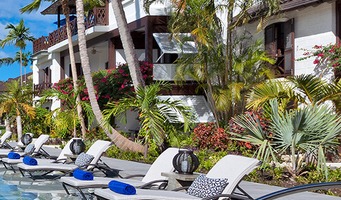 Sandpiper Hotel is one of the smaller Barbados hotels set amidst lush tropical gardens, this exclusive small hotel also sits on one of the best coral sand beaches the island has to offer. Read more about Sandpiper Hotel Barbados
---
Barbados West Coast Hotels
---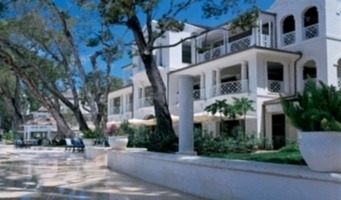 Sandy Lane hotel is a complete luxury resort offering a laid-back atmosphere and a sophisticated elegance that can't be beaten. A spectacular white sandy beach, world-class golf courses and all the conveniences make this the ultimate vacation experience. Read more about Sandy Lane Barbados.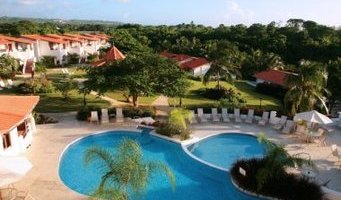 Sugar Cane Club Spa and Hotel feature a blend of luxury, tranquillity and seclusion at one of the most idyllic locations on the island. This hotel with a superb panoramic view is located 5 minutes away from the gorgeous West Coast beaches. At Heywoods and Speightstown. Read more about Sugar Cane Club Barbados
---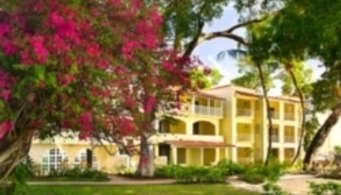 Tamarind Cove Hotel Barbados is the perfect vacation hideaway set amidst exotic tropical gardens on a white sandy beach on Barbados West Coast. An ideal vacation getaway for families and couples. Read more about Tamarind Cove Hotel Barbados.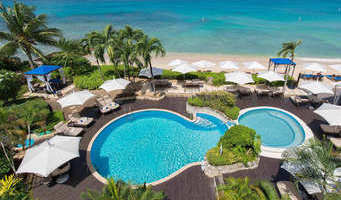 At The House Hotel Barbados you will find all the amenities of a complete resort, privacy, serenity and intimacy blend expertly to create a sophisticated holiday sanctuary for adults only. Read more about The House Barbados
---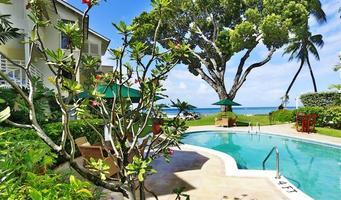 At Treasure Beach Hotel Barbados you'll find tranquillity, intimacy and tropical charm. Located on one of the West Coast's spectacular white sand beaches this charming all-suite hotel is set amidst exotic gardens. Read more about Treasure Beach Hotel Barbados.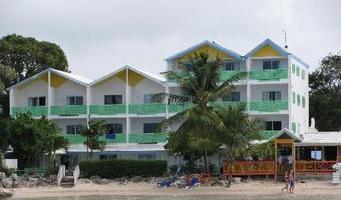 Tropical Sunset Beach Hotel is located on the beautiful West Coast of Barbados with easy access to the island's superb beaches. Fabulous scuba diving, snorkelling and swimming are all in close proximity to this hotel. Great for those travelling on a low budget. Read more about Tropical Sunset Beach Hotel
---
Barbados West Coast Hotels
---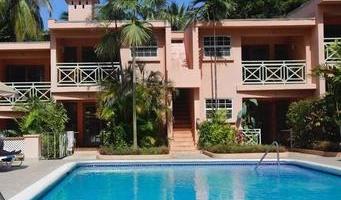 Travellers Palm Resort is an intimate collection of 16 One Bedroom Apartments located in the heart of Barbados famous West Coast. This intimate resort offers an affordable option for those wanting to experience the island's famous platinum coast. Read more about Travellers Palm Resort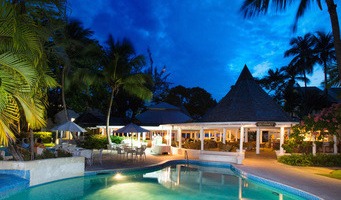 The Club Barbados Resort and Spa is located on Barbados gorgeous West Coast. The island's only hotel caters exclusively to adult vacation travellers. This all-inclusive oceanfront resort is perfect for couples and honeymooners. Read more about The Club Barbados Resort and Spa
---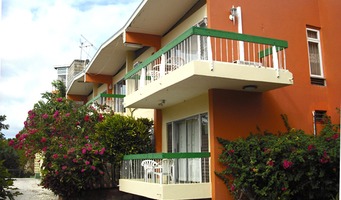 Walmer Lodge is an affordable 12-room apartment hotel located just 50 yards from one of the west coast's lovely white sandy beaches, this hotel offers a serene peaceful panoramic view of the Caribbean Sea. Read more about Walmer Lodge Apartment Hotel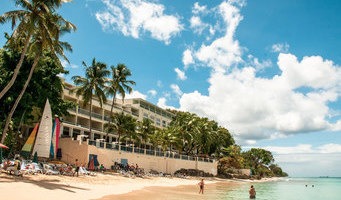 Waves is a 4 Star boutique hotel located on the famous west coast of Barbados this All-Inclusive beach resort offers all the luxury and pampering services that make the perfect holiday. Read more about Waves Hotel and Spa Barbados