Brighton Beach Barbados is the northern half of the popular Brandon's beach. This white sand beach Like most Barbadian beaches this beach is characterised by soft white sand and spectacular turquoise waters. Located in an area of industrialization it is situated behind the West Indian Rum Refinery and the Electricity plant. Despite this Brighton beach is a favourite with the locals and many of the cruise ship tourists who are on the island for the day.
Brighton beach is a beautiful spot for swimming, sunbathing, or simply relaxing however the one drawback is the lack of facilities on this beach. There is no restaurant, no lifeguard station, no toilets, showers, or changing rooms makes this beautiful beach a challenge for families, especially with young children.
Brighton is usually much quieter than the neighboring Brandon's beach so if you want to still enjoy the beautiful water and the quiet at Brighton beach, you'll have to take the short walk over to Brandon's to make use of the facilities and restaurants over there.
---
---
Brighton Beach is located on the west coast of Barbados, just a short distance away from the capital city, Bridgetown. Its convenient location makes it easily accessible for both locals and tourists alike. Nestled between other popular beaches such as Brandon's Beach and Batts Rock Beach, Brighton Beach stands out with its unique charm and natural beauty.
While Brighton Beach is undoubtedly a gem in Barbados, it is just one of the many stunning beaches that dot the coastline of this Caribbean paradise. Each beach in Barbados has its own unique charm and appeal, making it difficult to compare them directly. However, what sets Brighton Beach apart is its serene atmosphere and untouched natural beauty. Unlike some of the more popular and crowded beaches on the island, Brighton Beach offers a tranquil escape where visitors can truly unwind and connect with nature.
Brighton Beach, Barbados, offers a paradise-like experience for beachgoers with its stunning white sands, crystal-clear turquoise waters, and vibrant coral reefs. This picturesque destination is renowned for its calm and gentle waves, making it perfect for swimming, snorkeling, and various water sports activities. Whether you are seeking adventure or simply want to bask in the sun, Brighton Beach has something to offer everyone.
---
Why Visitors Love Brighton Beach Barbados
---
This beach is the typical Barbados beach with white sand and beautiful clear water, but Brighton is loved by both the locals and visitors for two different reasons. Ask any of the locals why they love the beach at Brighton, and they will most likely tell you the Hot pot. The Hot Pot as it is called is a shallow pool or inlet located at the northern end of this beach, the water here is warm as it is mixed with the water from the nearby electricity generating plant,
In fact, the locals swear by the healing powers of the Hot Pot, it is believed that this thermal bath alleviates symptoms of diseases like arthritis and rheumatism. If you visit the Hot Pot please exercise caution as there are dangerous undercurrents within the Hot Pot.
On the other hand, visitors especially, those from the cruise ships dock in the nearby Bridgetown harbour love Brighton beach because of its proximity to the port. Also, it is much quieter than its southern half Brandon's, so visitors who want to escape the hustle and bustle can get a lot more peace and quiet on Brighton beach.
---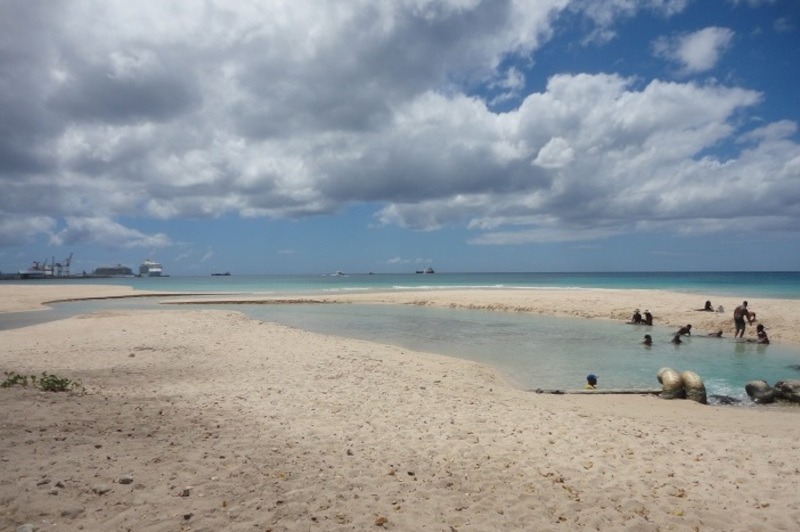 ---
How to Get to Brighton Beach Barbados
---
This beach is located just off the Spring Garden Highway so it is pretty easy to get there, if you are traveling by taxi all the operators know the area well. However, if you are on a self-drive tour and you are traveling from Bridgetown heading towards the Bridgetown Port along the Prince Alice Highway, and you'll pass the colorfully painted Pelican Craft Center.
Turn right along Harbour Road where you'll see the popular Chefette restaurant, follow this road until you reach
the Elsie Payne roundabout and turn right. At the traffic lights turn left onto the Spring Garden Highway, you will see the beach on your left take the first left-hand turn you will come to a T-junction turn right there is public access to the beach 4 houses down or you can drive past the distillery to the end of that road where you should find a small parking area.
---
Attractions Near Brighton Beach Barbados
---
In Barbados, you are never far away from an amazing attraction. Other popular attractions and things to see and do close to Brighton beach are The West Indian Rum Refinery, The University of The West Indies, 3 W's Oval, the historic Kensington Oval, Cricket Legends of Barbados, historic Bridgetown and its Garrison, Carlisle Bay Marine Park and the very popular Mount Gay Rum Visitors Center.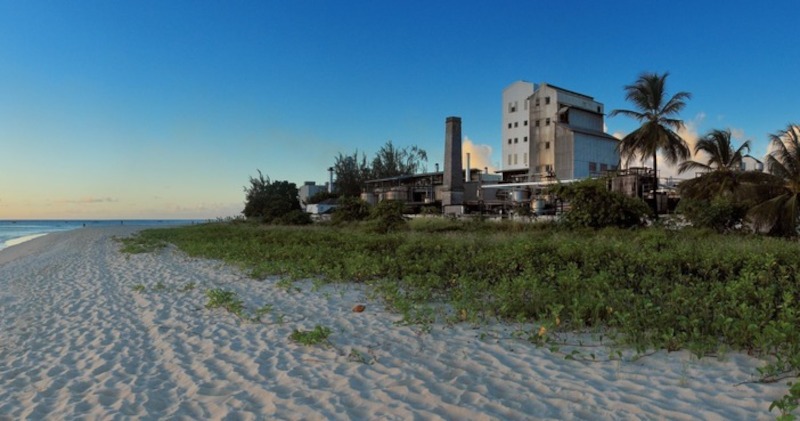 ---
The West Indies Rum Refinery is the most famous landmark in Brighton Barbados it is located on the shores of the spectacular Brighton beach. This historic distillery was opened in 1893 it produces a number of popular high-quality rum brands like Cockspur and Malibu.
---
HOTEL CLOSE TO BRIGHTON BEACH BARBADOS
---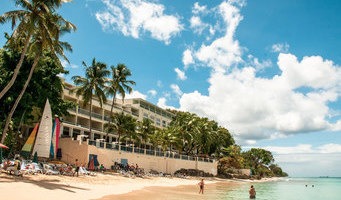 Waves is a 4 Star boutique hotel located on the famous west coast of Barbados 2 minutes away from Brighton beach. This all Inclusive beach resort offers all the luxury and pampering services that make the perfect holiday.
Learn more about Waves Hotel and Spa Barbados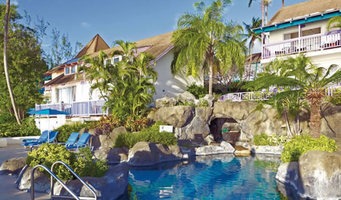 Crystal Cove Hotel sits on an oceanfront cliff on Barbados gorgeous west coast about 5 minutes drive from Brighton beach. This all-inclusive hotel combines a relaxed laid-back ambiance with sophisticated elegance, in a friendly atmosphere.
Learn more about Crystal Cove Barbados
---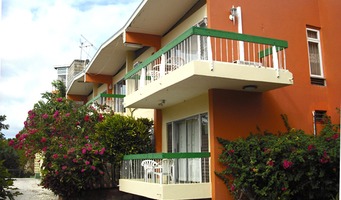 Walmer Lodge is an affordable 12-room apartment hotel located just 50 yards from one of the west coast's lovely white sandy beaches, this hotel offers a serene peaceful panoramic view of the Caribbean Sea.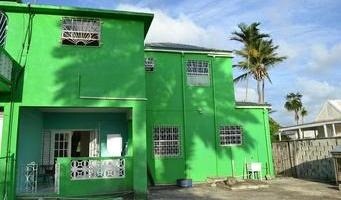 This property is 1-minute walk from Brighton beach Barbados. This apartment comes with a wardrobe, a seating area, a TV, a kitchen with a fridge and a dining table, and a private bathroom with a shower.
---
Restaurants in Close Proximity to Brighton Beach Barbados
---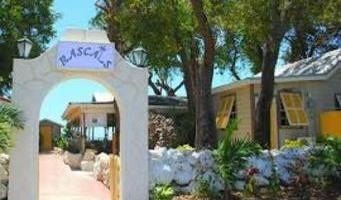 Learn more about Rascals Barbados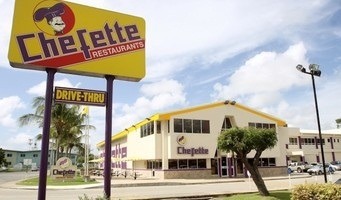 Learn more about Chefette restaurants
---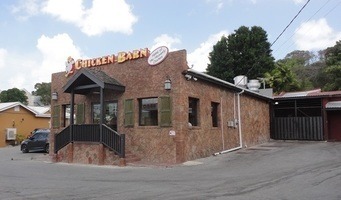 Learn more about Chicken Barn restaurant.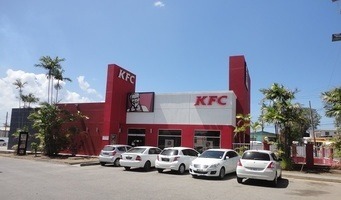 Learn more about Kentucky Fried Chicken restaurant
---
Other Beaches Close to Brighton Beach Barbados
---
Other popular beaches close to Brighton beach are the Brandon's Beach Barbados, Paradise Beach, Batts Rock beach Barbados and Fitts Village beach Barbados located just a short distance away further north.