The Boatyard Barbados is definitely one of my favorite party spots on the island…This fun entertainment spot is located on the outskirts of Bridgetown on the spectacular white sand Brownes beach with some of the most pristine waters you could imagine.
It's the place to be! The music is playing, the rum punches are flowing, the food is delicious and the staff is some of the friendliest people you'll ever meet… Let me tell you this is the best party spot ever! It's amazing with its own fun play park with a trampoline, a rope swing, a water slide and some other fun activities that everyone can do.
---
Boatyard Barbados Day Pass
---
There are lots of fun things to when you purchase your Boatyard Barbados Day Pass. Among the favorites  is the "Bungie Run" this takes place on the beach, I love this activity, one end of the Bungie rope is tied securely to the pier while the other end is fitted around the waist with a harness.
Here is the catch participants taking part in this fun game has to stretch the Bungie cord as for as they can down the beach to win a prized. You'll want to take part in this one!
And if by chance you don't want to take part in these activities… there is a beach volleyball court, pool table, sports T.V darts and board games. Also on location there is a dive shop catering to those who want to see first hand the diverse marine life on the brightly colored coral reefs in and around Carlisle Bay.
Add to this you'll also find a catamaran sailing cruise located at the Boatyard called the Heatwave… This coastal cruise is for those who want to experience the ultimate in relaxation as the catamaran glide along the picturesque coastline of the island. Learn more about Boatyard Day Pass
---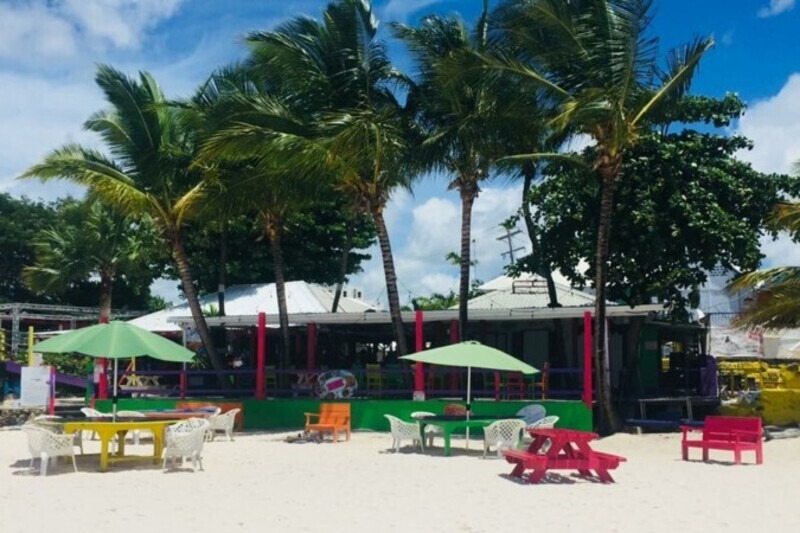 ---
About Boatyard Barbados 
---
Boatyard Barbados is located on a idyllic stretch of spectacular white sand beach at Brownes Beach in spectacular Carlisle Bay on the outskirts of historic Bridgetown. This popular little entertainment center on the beach features restaurant, bar and nightclub with something for everyone.
So if you visiting on a cruise ship or if you are staying at one of the island's popular hotels this is the perfect Caribbean holiday experience for you.
The breathtaking beauty of the perfect beach and spectacular turquoise waters is further enhanced by the casual dress code which adds to the relaxed laid back atmosphere. This delightful restaurant is open for lunch and dinner everyday.
---
Boatyard Barbados Sample Menu
---
---
Please NB: This is a sample menu items on the menu may change.
---
Hotels Close To Boatyard Barbados
---
---
---
Restaurants In Close Proximity to Boatyard Barbados
---
---