Experience the excitement of a Barbados snorkeling adventure it is one of the best ways to experience the spectacular world hidden under the islands turquoise waters… You can snorkel at some amazing shipwrecks, coral reefs and even swim with some amazing turtles.
The island has been blessed with perfect temperatures, calm waters, high visibility and beautiful coral reefs swarming with a fascinating variety of marine life. These attributes along with natural barrier and fringe reefs that run parallel to the island's beautiful west and south coast provide the ideal
ideal environment for a very diverse group of marine life. Step in the water once it is calm and you are sure to have an underwater adventure filled with juvenile fish, like snappers, Sergeant major fish, angel fish, parrot fish, a variety of soft and hard corals and host of other sea life will leave lasting memories.
---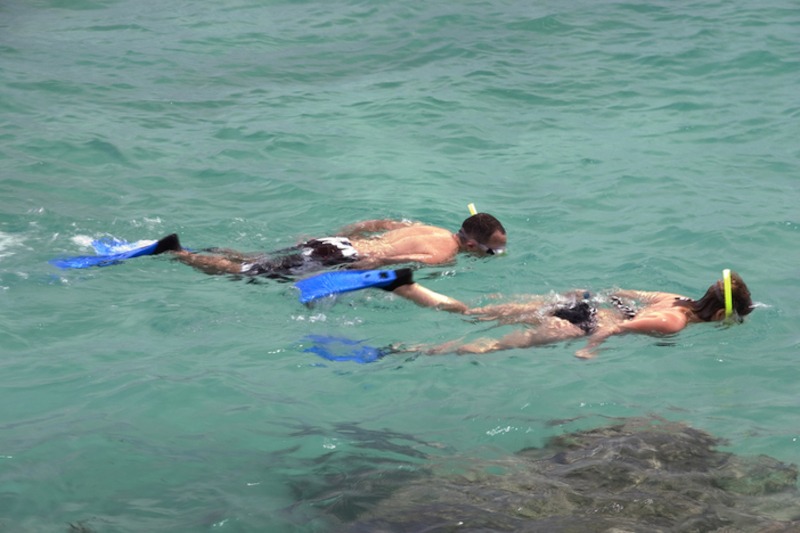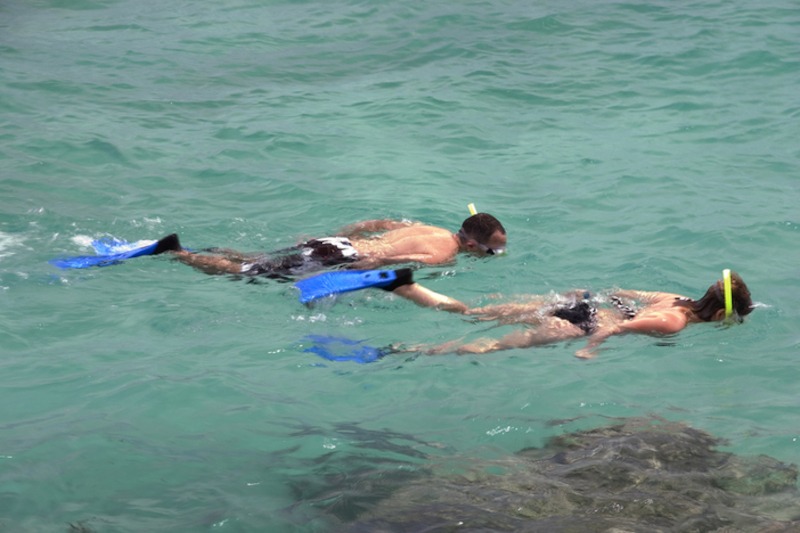 ---
The fringes and reefs found mainly off Barbados west and south coast are flourishing with healthy sponges, coral and plant life. There are several types of reefs, each one unique in its own special way. The barrier reefs, located 1/2 – 2 miles from shore feature some large coral heads which form the habitat for thousands of beautiful fish and are perfect for snorkeling.
You'll also find larger organisms on these reefs, feeding on the smaller fish. The Hawksbill turtle can also be found on these reefs. The fringes and patching reefs located closer to shore have smaller coral formations and more abundant plant life then the barrier reefs. These reefs are home to Sea Horses, Frog Fish, Giant Sand Eels and many other marine creatures.
---
Where To Snorkel In Barbados
---
There are three designated Barbados snorkeling areas on the island. Two of them are located on the west coast in the Folkstone Marine Park and the third on the south coast in the Carlisle Bay Marine Park. The Folkstone Marine reserve was established in 1981 for the promotion of scientific use. This reserve consist of a Scientific Zone, Northern Water sports Zone which facilitates water skiing, jet skiing, para-sailing etc.
A Recreational Zone which facilitates snorkeling, fishing, swimming etc and a Southern Water sports Zone which like the Northern zone also facilitates water skiing, jet skiing, para-sailing. You will find that the inshore reef found in the Recreational Zone of the Park is ideal for snorkeling. Also of benefit is its close proximity to the shore. It is located about one-third of a mile offshore.
This reef is home to schools of brightly coloured fish and other marine life, including sea anemones, sea lilies, corals and sponges. The second designated snorkeling area is also located in the recreational zone at the Folkstone Marine reserve is set up a little way from the beach at Holetown. There is an artificial reef in this second area which was created from a barge that has been sunk in the reserve.
This area has already attracted a wide variety of marine life such as chubs, snappers and squirrel fish. The third designated Barbados snorkeling area is located at the Carlisle Bay Marine Park on the south coast. In this reserve there are no natural reefs… But you will find a number of exciting shipwrecks. All swarming with a plethora of beautiful tropical fish. And other marine life such as Frog Fish and Sea Horses and other more common reef fish.
---
Barbados Snorkeling Adventure
---
This Barbados snorkeling adventure take you on an exciting powerboat ride along the scenic west coast of the island. On this trip you'll experience the best underwater life the island have to offer. Snorkel over shipwrecks, a tropical reef flourishing with healthy sponges and of course swim with some amazing sea turtles.
---
Barbados Snorkeling Adventure Booking Form
---