You couldn't ask for a more memorable recreational and therapeutic activity than a Barbados horseback riding adventure… Every year hundreds of visitors of all ages and abilities have the experience of a lifetime, horseback riding in our warm beautiful weather.
So if you have an urge to explore the great outdoors… this side of Barbados with all its stunning scenic beauty and fascinating cultural heritage will no doubt fascinate you.
Just imagine a ride through the old sugar plantations with their magnificent great houses and surrounded by lush fields of towering sugar cane. And you'll agree that this is some of the most beautiful landscapes the island has to offer… So whether it is riding along one of the island's spectacular palm-fringed white sandy beaches…
Or the equally rugged and magnificent Scotland district on the East coast of the island. This Barbados horseback riding adventure will expose you to breathtaking spectacular scenery… our rich cultural heritage and local wildlife like the popular Bajan Green Monkey.
Barbados horseback riding is a great family activity for experienced and first-time riders.
---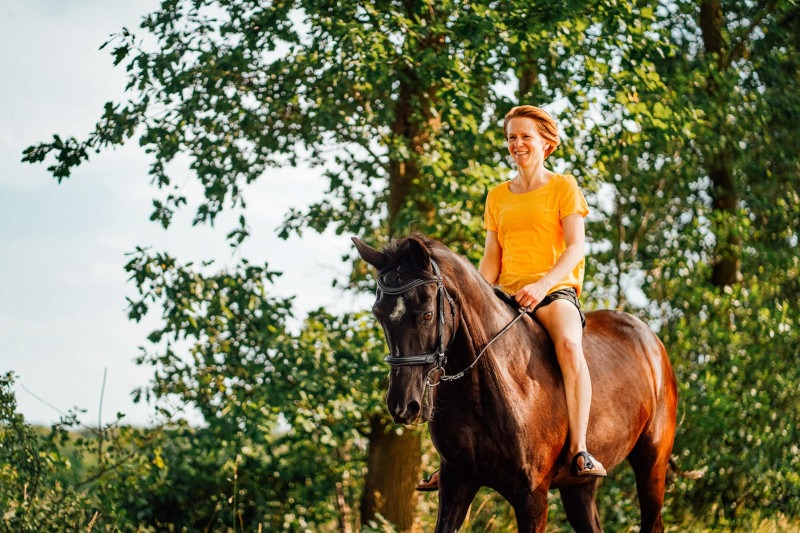 ---
Barbados Horseback Riding Frequently Asked Questions
---
Yes, Barbados horseback riding tours are among the fun things to do while on the island. The east coast provides a number of exciting trails that combine countryside and beach rides.
The beach and country combo is among the more popular Barbados horseback riding tours. On the East coast, this is a full trail horseback ride, that takes you through the Scotland District, and onto the east coast beach.
Persons participating in the Barbados horseback riding tours should be approximately 220 lbs. It is also recommended that participants wear enclose shoes and long slacks.
---
The Riding Centre is a full-service riding stable specializing in Barbados horseback riding adventures. They offer the best hill and beach trails on the island, you can take part in Dressage and Showjumping.
You'll find them in the picturesque Scotland District in the rural parish of St Andrew with a magnificent view of the very popular East coast beach.
The stable and riding centre is owned and operated by a certified Caribbean Coach who has a passion for riding. She has represented Barbados in International Dressage and shows jumping…
---
Packages and Rates for the Barbados Horseback Riding Adventure
---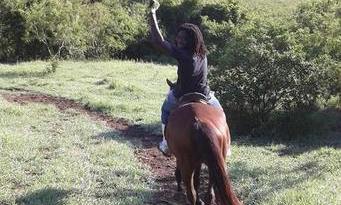 This riding trail offers a full view of the Scotland District and the scenic East Coast. The trail takes our riders through the unspoiled countryside with spectacular and breathtaking views of 4 different parishes.

Historic sites such as The Morgan Lewis Mill and Shorey Village with the rugged East Coast as a backdrop.

Our riders also ride through a local fruit orchard where they can stop and sample fruits in season. It really is a great way to experience the countryside of Barbados. Max group capacity 9 persons.
Price BDS $200.00 / USD 100.00 Per Person.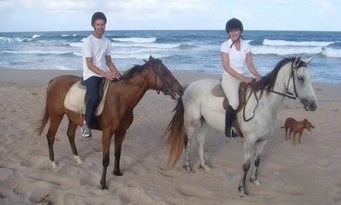 This is a full trail through the Scotland District, fruit forest, sugar mill, and the east coast beach. Rated as one of the most amazing trails in the world.
This ride ends back at the stables. Max group capacity 8 persons. Price BDS $240.00 / USD $120.00 Per Person
---
Barbados Horseback Riding Safety
---
Horseback Riding is a live, high-risk sport. However, the providers we work with do their very best to make your experience as safe and secure as possible by using our well-schooled horses and experienced tour guides. It is imperative that you pay close attention to the instructions explained to you by your tour guides.
Best Barbados Vacation Packages or the providers of the horseback riding service are not liable for any injuries, damages or death howsoever caused to any person or persons participating in any activities offered.
---
What is Included With These Barbados Horseback Rides
---
All of the above packages are inclusive of a private guide, hard hats, instructions, and refreshments, Please note transportation is not provided.
---
Barbados Horseback Riding Requirements
---
Here are the requirements for horseback riding…
Riders should be approximately 220 lbs.
Enclose shoes and long slacks are recommended
Groups should be two-person minimum and nine persons maximum
Persons should be (4) years and over to participate in tours
---
Barbados Horseback Riding Booking Fee
---
There is a non-refundable booking fee in order to secure your riding date. Rates are subject to change.
---
Horseback Riding Booking Form
---
---