You may be wondering why Sandy Lane Barbados is a preferred hotel… well this luxurious resort located on Barbados platinum coast has been the preferred choice of the rich and famous for over four decades. And it's not simply because of its ideal location on one of the most gorgeous beaches on Barbados famous west coast.
Or because of the beautiful Palladian-style coral stone building, romantically tuck away among the groove of mature mahogany trees …But mainly because the name Sandy Lane conjures up memories of an idyllic paradise where days are spent among warm friendly people. And the images of the spectacular calm turquoise waters and the magnificent evening sunsets are memories of a lifetime.
There is more to Sandy Lane Barbados! From the moment you arrive, there is an air of exclusiveness that adds to the allure of those seeking seclusion, a haven of tranquility, or simply the perfect location for their family's vacation experience. Sandy Lane Hotel Barbados is no ordinary hotel… One glimpse of the Palladian-style building of cream coral stone shimmering in the sunlight confirms why it is the preferred choice of the world's rich.
Sandy Lane's refurbishment at the turn of the millennium and its wide choice of leisure options and amenities make this 5-diamond resort the complete vacation address. You can read guest reviews about Sandy Lane Barbados.
---
---
Sandy Lane Barbados Frequently Asked Questions
---
The Sandy Lane Hotel is conveniently located just a short 30-minute drive away from Grantley Adams International Airport, ensuring a quick and hassle-free journey for guests arriving in Barbados.
Some popular nearby attractions and activities near Sandy Lane Hotel Barbados include visiting the picturesque beaches of Barbados, exploring the historic sites of Bridgetown, indulging in water sports such as snorkeling and scuba diving, and playing golf at the prestigious Sandy Lane Golf Course.
The room options available at Sandy Lane Hotel Barbados are luxurious and diverse. Guests can choose from spacious suites, elegant penthouses, and stunning villas, all offering breathtaking views and world-class amenities.
---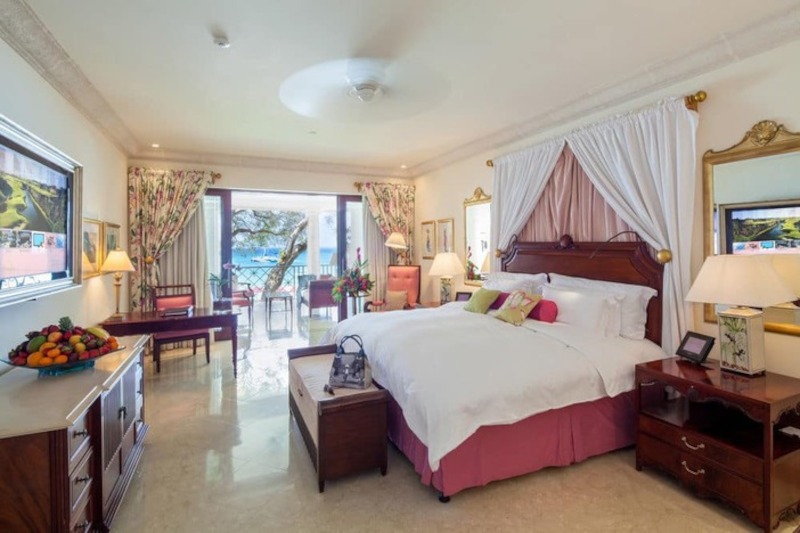 ---
The Luxury Dolphin Suites at Sandy Lane Barbados
---
The Luxury Two-Bedroom Dolphin Suites at Sandy Lane Barbados are elegant two-bedroom suites in the Dolphin Wing of the hotel. These suites are perfect for families. They include a living room and a patio with a dining area and in the main bedroom, there is a walk-in wardrobe and master bathroom. The second guest bedroom has its own bathroom and private balcony. Read guest reviews about the Luxury Dolphin Suites at Sandy Lane Barbados
---
THE SANDY LANE BARBADOS LUXURY OCEAN ROOM AND LUXURY ORCHID SUITES
---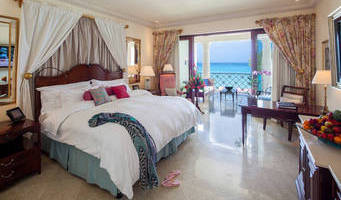 The Luxury Oceanfront Rooms at Sandy Lane Barbados are located in the Seahorse and Dolphin Wings of the hotel.
These luxury Ocean Rooms showcase the very special qualities of Sandy Lane.
Each of these rooms is incredibly spacious with generously proportioned bathrooms, separate makeup area and expansive balconies, creating the perfect place to enjoy views of the beach, ocean and glorious evening sunsets.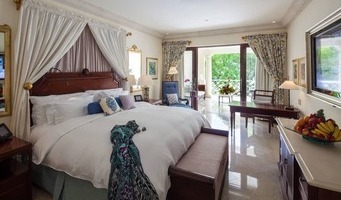 The Luxury Orchid Suites are two-bedroom garden suites in the Orchid Wing of Sand Lane hotel. These suites are set romantically amidst the tropical flowers and fauna at Sandy Lane.
These suites offer a stylish living area, patio with dining area and master bedroom with an elegant bathroom.
---
AMENITIES AND ACTIVITIES AT SANDY LANE BARBADOS
---
Like any world-class hotel Sandy Lane offer its guest an exquisite dining experience with a number of choices. Whether it is elegant and exclusive like in their signature restaurant L'Acajou or more casual as in their beachfront restaurant, Bajan
Blue you will enjoy their stylish settings and impeccable service. Bajan Blue is truly a beachfront restaurant it is located at beach level and offers a spectacular view of the pristine waters of the Caribbean Sea.
You will be delighted to know that the culinary team at the Bajan Blue uses a variety of techniques. Including the Wok, the grill and the wood stone oven to enhance the flavour and bring that unique Caribbean taste to your dining experience. L'Acajou is Sandy Lanes most elegant and exclusive ocean front restaurant, it is available to both resident and non-resident guest of the hotel.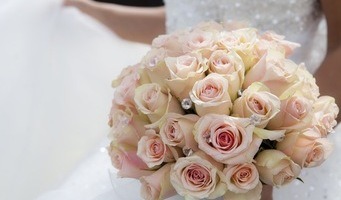 Your Sandy Lane wedding take place in some of the most idyllic surroundings you can imagine. This luxury hotel lapped by the gentle turquoise waters of the Caribbean Sea provide wold class facilities that are perfect for your destination wedding.

So if you are thinking about sharing your special day on a sun drench paradise… with your family and friends this is the ultimate venue.

The hotels lush tropical gardens and the expanse of gorgeous white sandy beach really add to your wedding options.
You and your guest are sure to have memories to last a life time.

---
Sandy Lane Barbados Golf Club
---
This world renowned resort located on Barbados gorgeous West coast is home to three unique courses. The Old Nine course constructed in 1961 and two fabulous Tom Fazio design courses the Country Club and The Green Monkey.
Sandy Lane Barbados offers 45 holes of golf set amidst spectacular scenery on these three unique courses. Learn more about the Sandy Lane golf Club
---
BOOK YOUR STAY, OR READ REVIEWS AT SANDY LANE BARBADOS
---
To book the best rates for your special Sandy Lane Barbados holiday enter your information into the search box below. This special Booking engine will search all of the popular booking sites and bring back the best rates.
If on the other hand you would prefer to read what other guests to the popular Sandy Lane had to say about their stay. You may Click Here to read their reviews and recommendations on Trip Advisor.
---
The Beach At Sandy Lane Barbados
---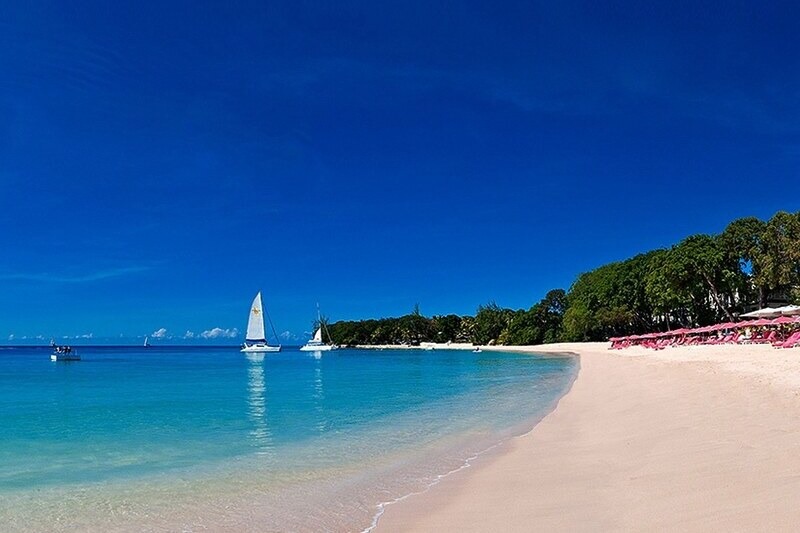 ---
Restaurants and Bars in Close Proximity to Sandy Lane Barbados
---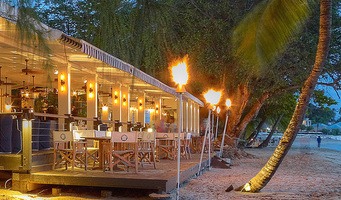 The Lone Star restaurant Barbados is located on the famed platinum coast and is renowned for its idyllic beach setting, celebrity clientele and buzzy laid back atmosphere. Learn more about Lone Star Restaurant Barbados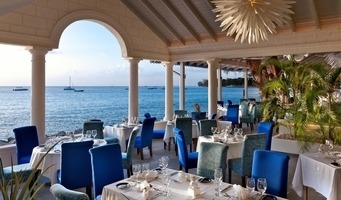 The Tides Restaurant sits at the edge of the sea and overlooks the spectacular turquoise waters of the Caribbean. Learn more about Tides restaurant Barbados
---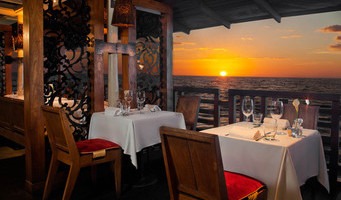 Daphne's Restaurant is a delightful restaurant that reflects the style of it's sister restaurant located in London. This tastefully decorated restaurant feature a menu inspired by the classic Italian style of eating and living. Learn more about Daphnes Barbados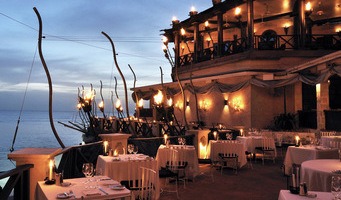 The Cliff Restaurant is one of the top restaurants in Barbados… Sitting on a cliff-top overlooking the shimmering turquoise waters of Barbados placid west coast. Learn more about the Cliff restaurant Barbados
---
Other Hotels Close to Sandy Lane Barbados
---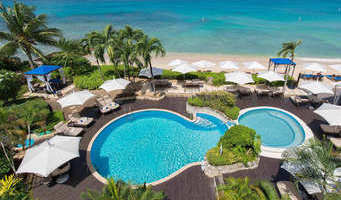 The House Hotel Barbados is conveniently located approximately 2 minutes from Sandy Lane Barbados
Learn more about The House Barbados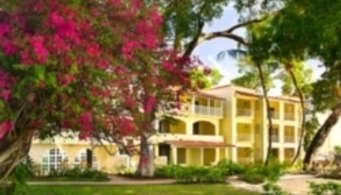 Tamarind Cove Hotel Barbados is conveniently located approximately 2 minutes from Sandy Lane Barbados
Learn more about Tamarind Cove Hotel Barbados