The unique flavour of Barbadian cuisine comes from the various cultures that have settled on our island paradise. Typical dishes like Cou Cou and Flying Fish, Macaroni Pie, Sweet Potatoe Pie, Rice and Peas, Black Pudding, and Souse have all become an integral part of restaurant menus.
This Barbadian cuisine page has been created to share these Barbadian restaurants with our web surfers… Whether you are in the early stages of planning your trip to Barbados or if you are already on the island. Here you can learn about each restaurant listed, its opening hours, the type of attire you can wear, its parking facilities and view their sample menu.
---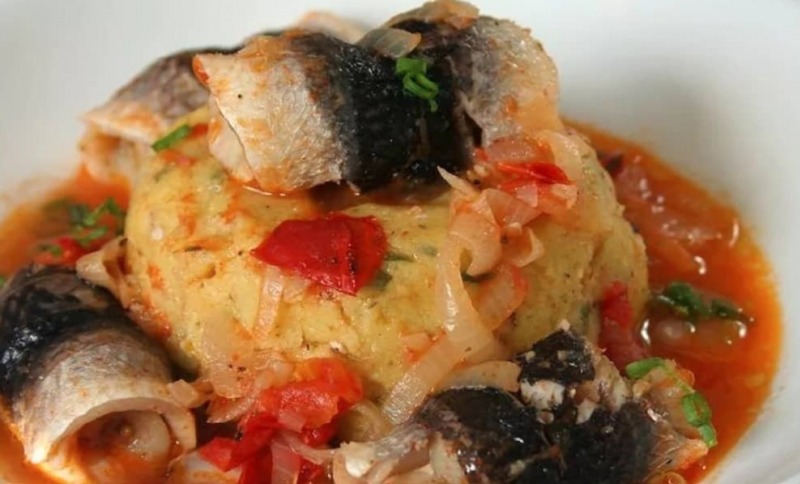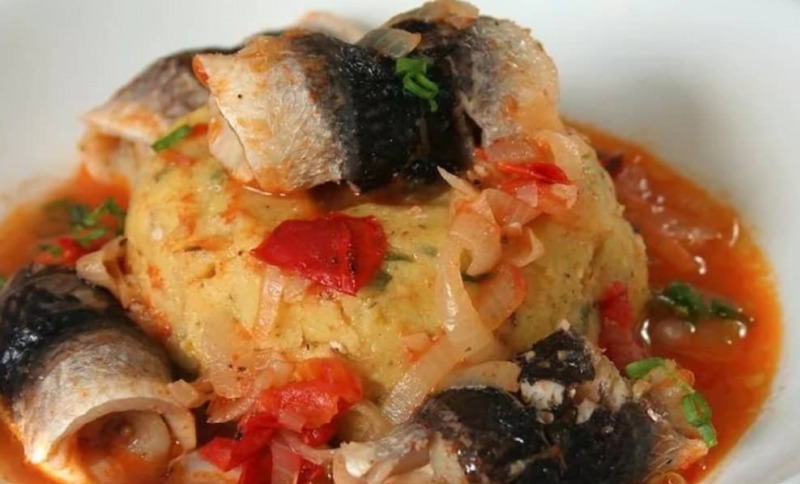 ---
---
RESTAURANTS IN BARBADOS SERVING BARBADIAN CUISINE
---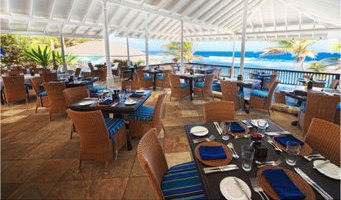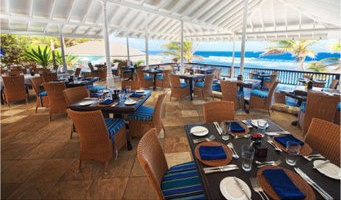 The refurbished 100-year Atlantis hotel Restaurant Barbados located on the rugged beautiful East Coast offers guests a wonderful dining experience whether it's breakfast, lunch, or dinner.
The menu at Atlantis varies often and features a wide array of mouth-watering Barbadian cuisine like macaroni pie, green bananas, and salt fish.
The Atlantis also features special buffet luncheons on Sundays and Wednesdays open to locals and visitors.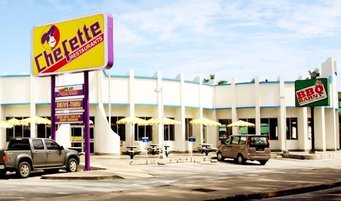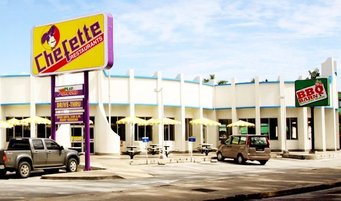 Barbecue Barn and Salad Barue Barn and Salad Bar is a delightful casual four-course dining experience with two wonderful air condition locations.
The Barbecue Barn's fire grill specialties include Caribbean, International, American and Barbadian cuisine.
You can treat yourself to an affordable mouthwatering array of dishes like steak, chicken, fish, pork ribs or burgers all served with some delicious sides and garnishes.
---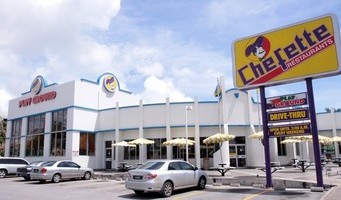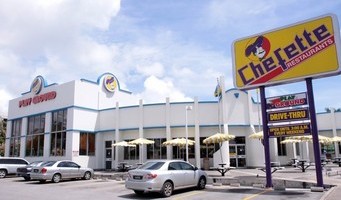 For over three decades Chefette Restaurants has been the island's leading fast food chain… Chefette specialises in Caribbean, Indian, American and Barbadian cuisine.
All are served from an extensive menu that includes boasted chicken, pizzas, Rotis made with genuine curry from India, burgers, ice creams and so much more.
Chefette has 14 locations across the island and is open from Monday to Sundays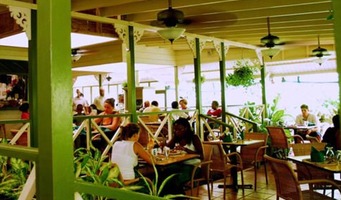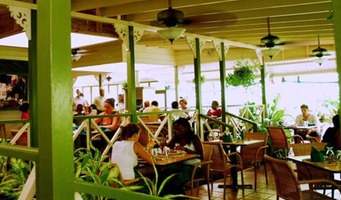 Brown Sugar Barbados is the home of authentic Caribbean and Barbadian cuisine… house in a charming traditional Bajan home that has been lovingly restored.
The menu at Brown Sugar features a number of Barbadian culinary delights like fish cakes and Bul Jol.
Dinner is served in an elegant romantic lamplit ambiance that really adds to your wonderful dining experience.
---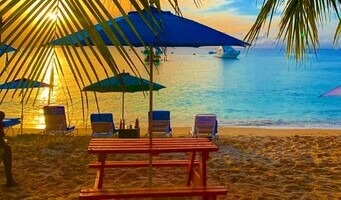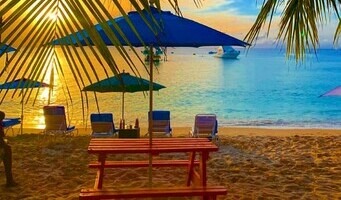 This restaurant has a fantastic location, overlooking the beautiful and unspoiled west coast beach.
This restaurant has quickly risen to be the restaurant of choice in the north of the island. Guest from anywhere on the west coast is provided with complimentary transport.
Learn more about Juma's Restaurant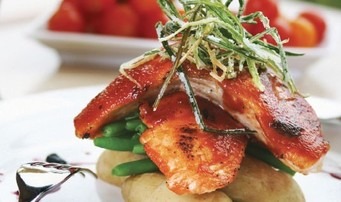 Located on the island's famous South coast Muscovado Bar and Restaurant is the Barbados Culinary Arts student training center.
You will no doubt be pleasantly surprised by the creativity and flavour of the Caribbean and Barbadian cuisine served by these young chefs at this wonderful Barbadian restaurant.
Read more about Muscovado Restaurant
---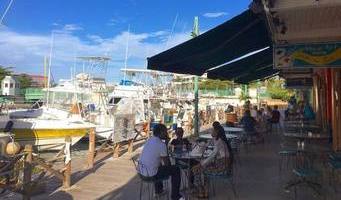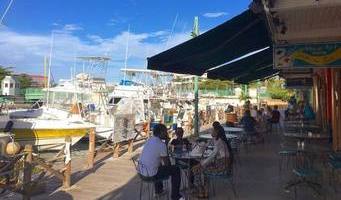 The Waterfront Cafe is a charming restaurant perch on the banks of the marina in historic Bridgetown. Over the last 20 years, the Waterfront Cafe has become the home of live music and delectable cuisine.
Owner-operated this World-renown restaurant feature an extensive menu specializing in seafood, the Caribbean, and Barbadian cuisine all complimented by steel band music and jazz.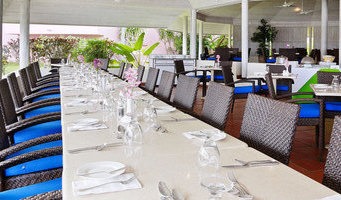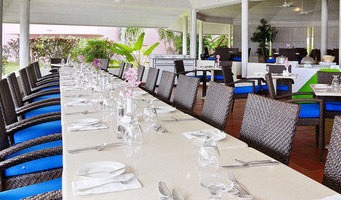 The Garden Terrace Restaurant is located at the Southern Palms Beach Club in St Lawrence Gap.
This restaurant overlooks a magnificent stretch of white sandy beach, that perfectly compliments their a la carte dining night.
The Garden Terrace is renowned for its Sunday buffet lunch with the All-star Steel Band.
---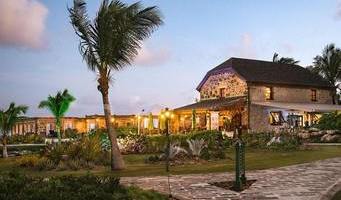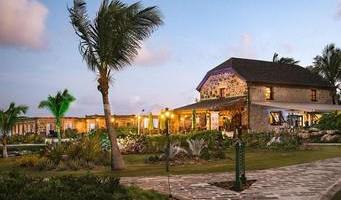 The Carriage House is a modern poolside bar and grill housed in the historic stables at the Crane hotel. This restaurant offers patrons a variety of light and detectable food along with mouth-watering cocktails in a casual relaxing atmosphere.
The restaurant menu specialties feature Caribbean and Barbadian cuisine in a wonderful outdoor atmosphere.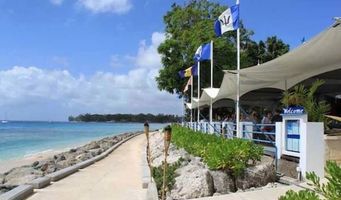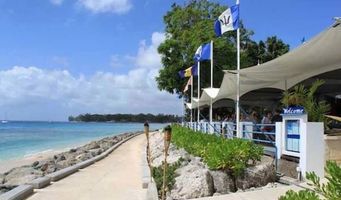 The Beach House Restaurant is located on a spectacular white sandy beach in historic Holetown. This famous west coast bar and restaurant have a daytime menu serving delightful Caribbean and Barbadian cuisine.
The restaurant's evening menu features a delightful blend of local and Mediterranean flavours under a romantic candlelight atmosphere.
---