For more than 35 years Chefette Restaurants has been the island's leading fast food chain with 14 restaurants and 9 drive-thrus strategically located across the island. It is the perfect place to sample their extensive menu which features their famous broasted chicken, pizzas, Rotis made with Indian curry, sandwiches, burgers, ice cream and so much more.
Visit any of the locations and you'll be blown away by the tropical ambiance and high-quality service that Chefette is known for. So whether it's at Rockley, Oistin's, Bridgetown, Warrens or the airport restaurant offers the best in fast food dining anywhere on the island.
---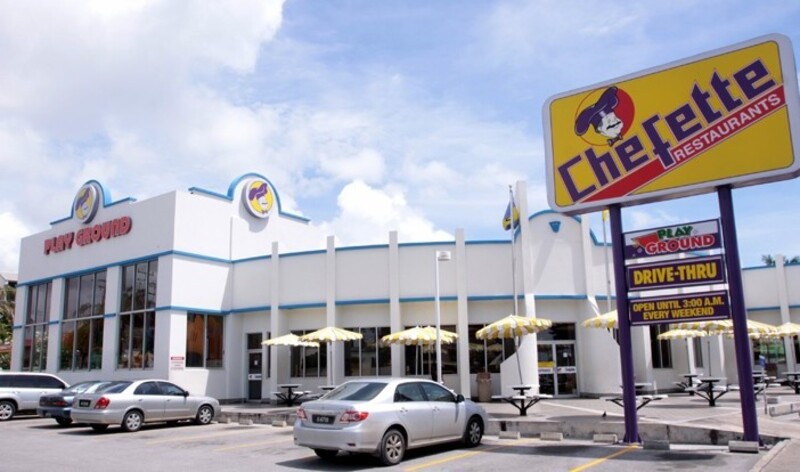 ---
---
About Chefette Restaurants
---
Chefette has 14 locations with a Barbeque Barn and Salad Bar located at Rockley, on the South Coast, and Warrens in St. Michael. This restaurant specialises in Barbadian, Caribbean, International, and American cuisine served in restaurants with tropical decor.
The relaxed ambiance is further enhanced by the high-quality service provided at each location. Of course, a casual dress code is in effect at all locations. Chefette at the Grantley Adams Airport is open for breakfast from 5:00 am to 10:00 pm
Monday to Sunday. While all other locations are open for both lunch and dinner from 9:00 am to 12 midnight Monday to Sunday..
---
Chefette Restaurants Menu
---
---
Please NB: This is a sample menu, items on the menu may change.
---
Hotels Close To Chefette Restaurants Rockley
---
---
---
Restaurants In Close Proximity to Chefette Restaurants Rockley
---
---
---