Barbados beach bars the life of our sandy beaches. One visit and you'll realize that Barbados has some of the most spectacular beaches in the Caribbean. The pristine turquoise waters and the white sandy beaches are addictive and many visitors to this island are hook for life. In addition the islands unique geographical position insures that there are beach conditions to suit everyone.
Beach lovers looking for gentle waters to swim in can have they full on the calm west coast… On the other hand if you're a little more daring and looking for a mighty wave to ride you can find this on the more rugged and turbulent east coast. But visitors to Barbados beaches soon recognize that there is another factor that maybe even more alluring than the white sand and the shimmering turquoise water…
Barbados beach bars! Honestly? I don't think that the island's vibrant beach culture could exist with out Barbados beach bars after all they have become the life of the beach. So that's what this page is about… those beach bars that has added much of the flavour to the culture that has become synonymous with Barbados beaches.
Here is a guide to the best Barbados beach bars
---
Fisherman's Pub Barbados
---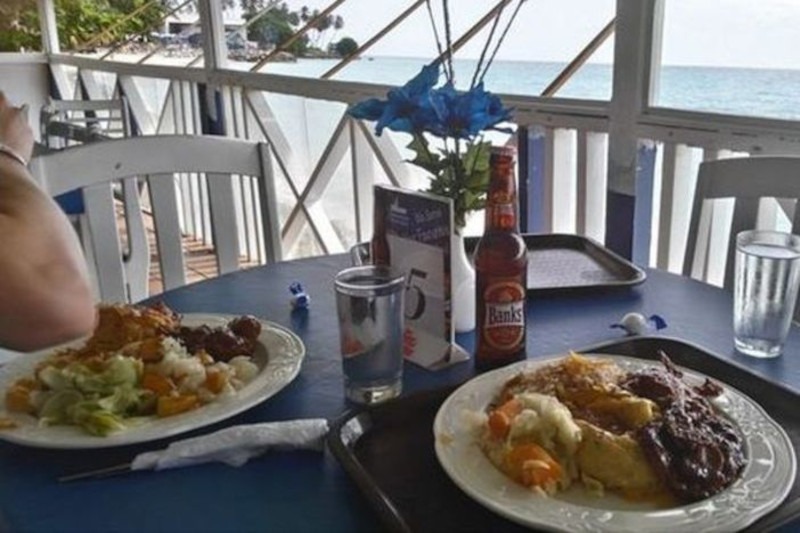 The Fisherman's Pub located in the north of the island next to the Speightstown fish market is one of Barbados beach bars that have stood the test of time. A familiar landmark in Speightstown this Barbados beach bar has been operating as a restaurant right next to Salt Pond for over thirty years.
The Fisherman's Pub offers an inviting menu filled with delicious local dishes like Potato, Yam, Eddoe and Cassava all tastily prepared. Pickled Green Banana, the national dish Cou-Cou,Fish Head Soup with dumplings and all the other local favourites.
To top it off you can enjoy a local beverage like mauby or if you prefer something a bit stronger you can try their House Rum Punch made with fresh squeezed limes straight and sprinkled with grated nutmeg..
---
Mullins Beach Bar – Barbados Beach Bars
---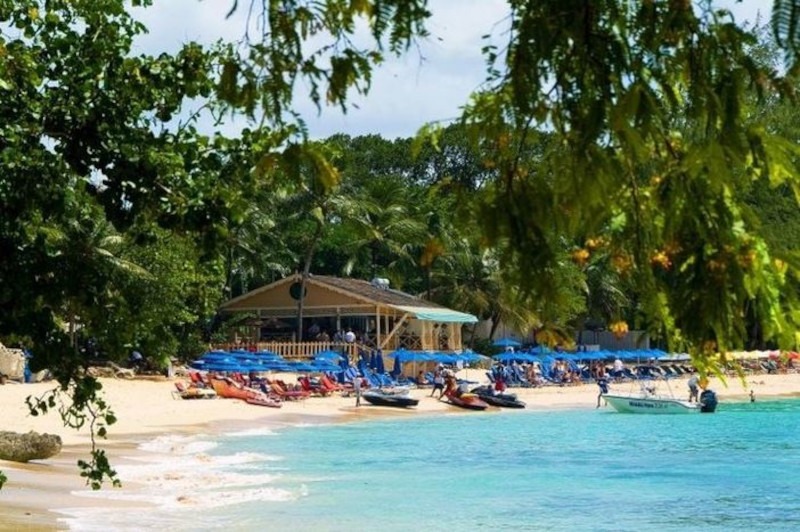 Mullins Beach Restaurant & Bar is set on a tranquil white sand beach on Barbados famous west coast… Its beach-side location allows guest to dine mere feet away from the most spectacular turquoise waters of the Caribbean Sea.This charming open-air restaurant and beach bar is the perfect place to sample a wide range of exotic cocktails right by the waters edge.
This is one of the Barbados beach bars that is renowned for great food which ranges from traditional Caribbean flavour to International cuisine. Mullins Beach Bar offers a truly delightful experience that's beautifully complimented by friendly personalize service and a wonderful serene atmosphere.
---
Juju's Beach Bar Barbados
---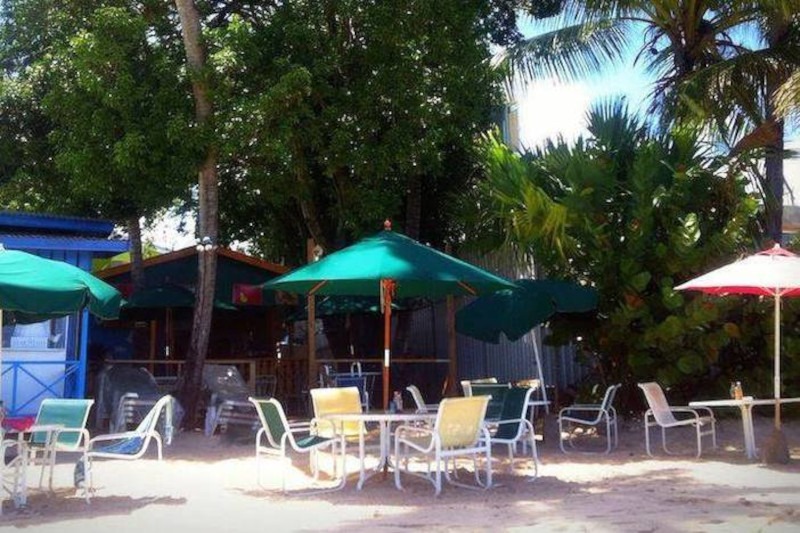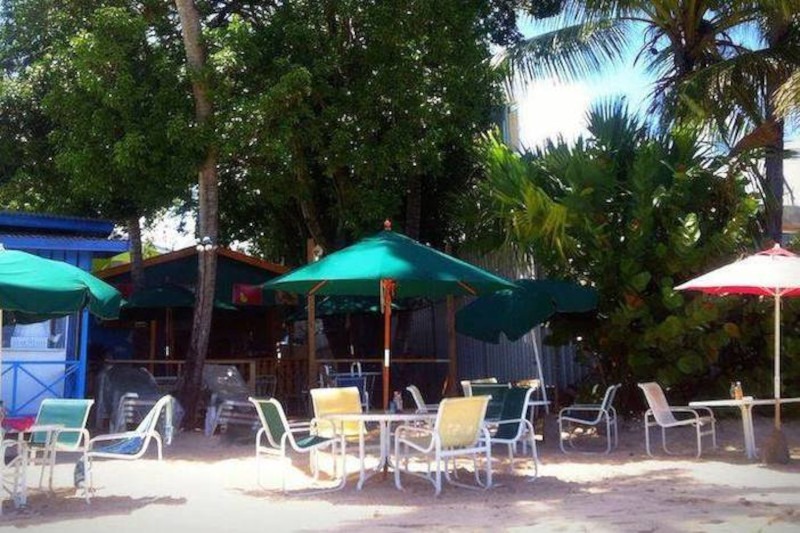 Ju Ju's is a small local beach bar located a short distance south of the Lone Star restaurant in Mount Standfast on Barbados picturesque west coast. A favourite with the locals as well as visitors to the island, this beach bar is located on a small beach that is the perfect place to relax and enjoy grilled fish and other amazing local dishes.
This beach is also an ideal place to swim with the sea turtles, enjoy some fantastic water sports or you can rent umbrellas and loungers and spend the entire day enjoying the laid-back lifestyle of this west coast beach.
---
Santi Beach Bar and Grill – Barbados Beach Bars
---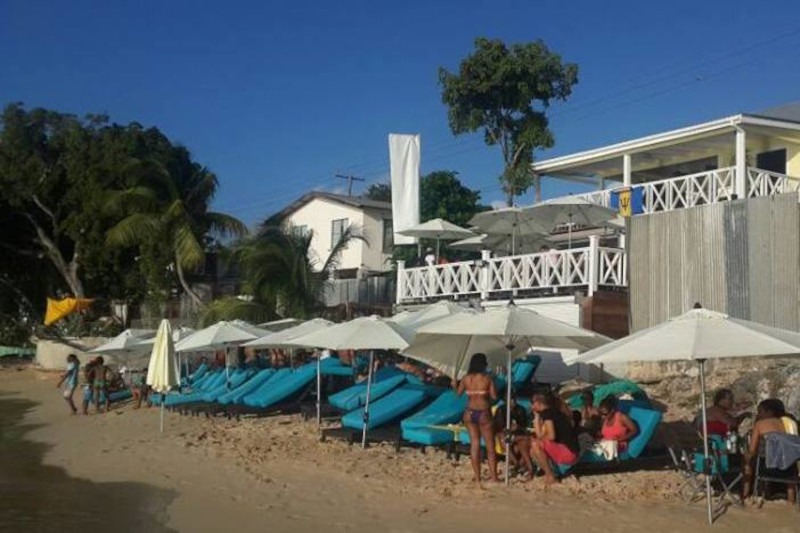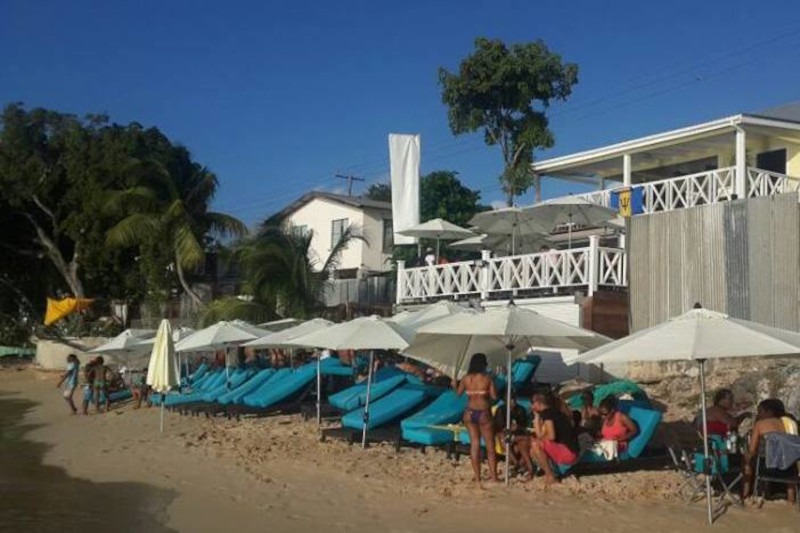 Santi Beach Bar and Grill is a casual dining beach bar in an ocean front setting located 2 doors north of Lonestar on the platinum coast of Barbados. This is a great beach bar with very comfortable sun chairs, best on the West Coast. Its great location with delicious food and great cocktails.
There is free parking for patrons in the lot immediately behind the Lone Star restaurant with valet parking. You can enter this idyllic beach bar via the beach or highway one. It is a wonderful place to spend your day just chilling and enjoying the lovely beach and warm friendly staff.
---
Surfside Beach Bar Barbados
---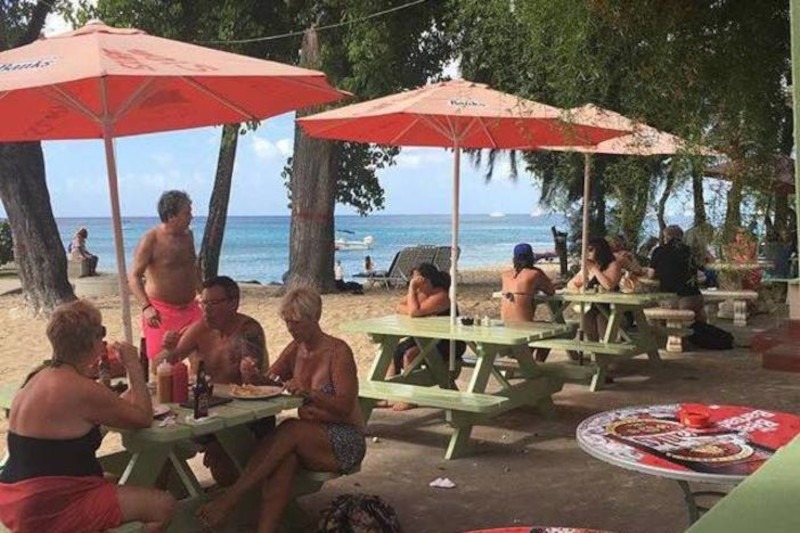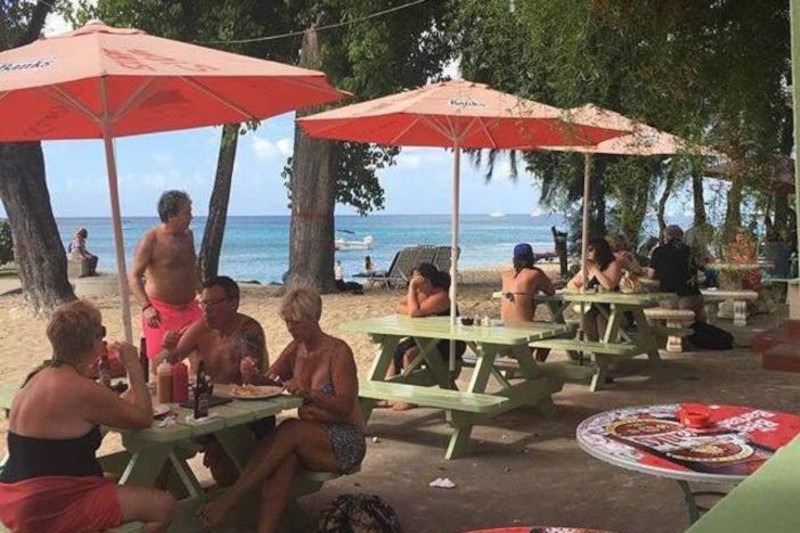 Surfside Beach Bar and Restaurant – is another popular hang out located on the beach at Holetown on Barbados popular West coast. You'll find this beach bar and restaurant sitting on a beautiful white sand beach a short distance away from the hustle a bustle of this small town.
Surfside beach bar is popular for a delicious combination of local and European dishes, choose from flying fish marinated in secret seasonings to Cajun Mahi Mahi served with Aioli sauce. It is a great place to have breakfast, lunch or dinner while you relax to the tropical rhythms of the Caribbean… or just sip one of the rum flavour specials from the bar whilst enjoying atmosphere presented by the shimmering Caribbean Sea a short distance away.
---
The Beach House – Barbados Beach Bars
---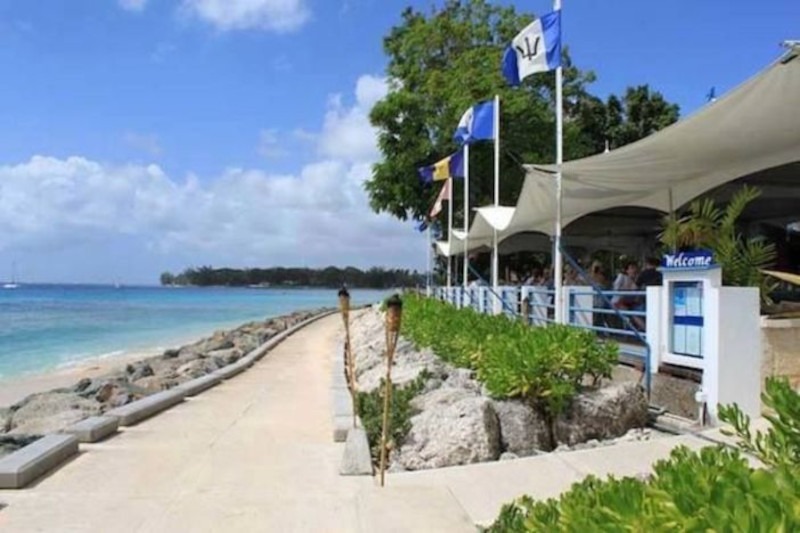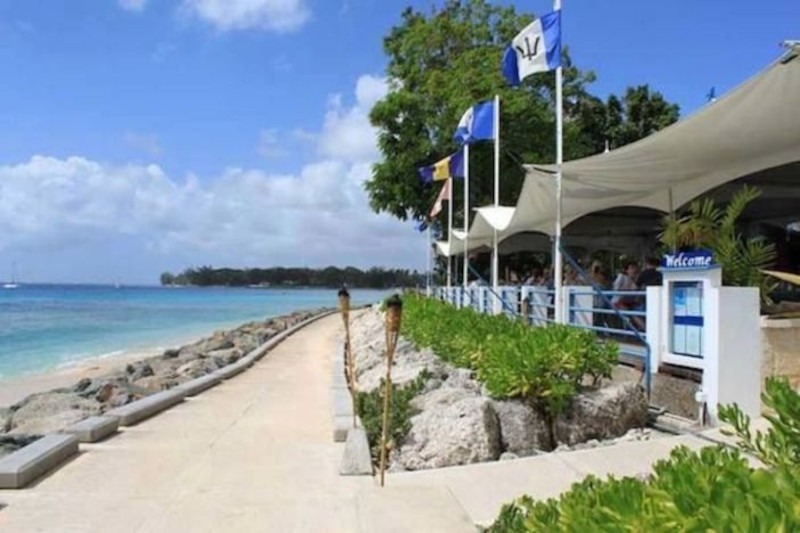 The Beach House is an ocean front family friendly restaurant and bar located at the center of historic Holetown on Barbados popular west coast. This popular beach front restaurant and bar is open from 11am for coffee and drinks with an all-day menu served from noon.
The menu of healthy fresh food is prepared with care and the drinks are guaranteed to be cool and refreshing. On Sundays there is a Bajan lunch buffet which feature a wide selection of local dishes. The Beach House is the ideal spot you will enjoy the atmosphere and friendly staff.
---
Rascals Beach Bar Barbados
---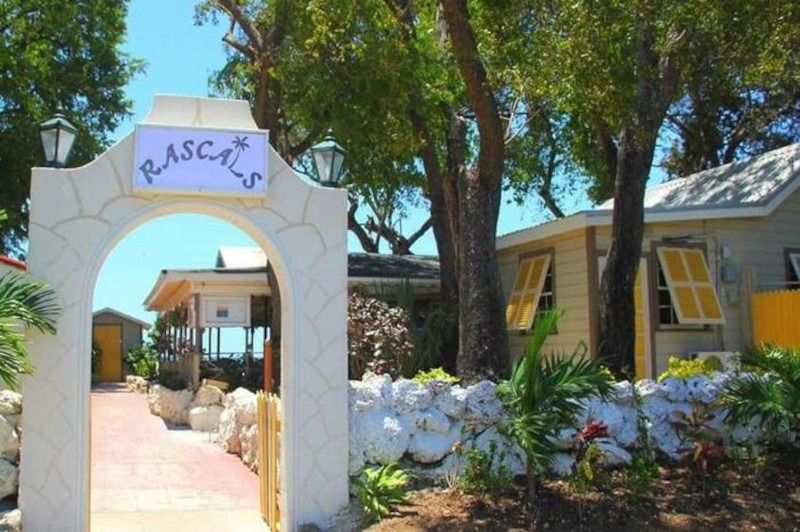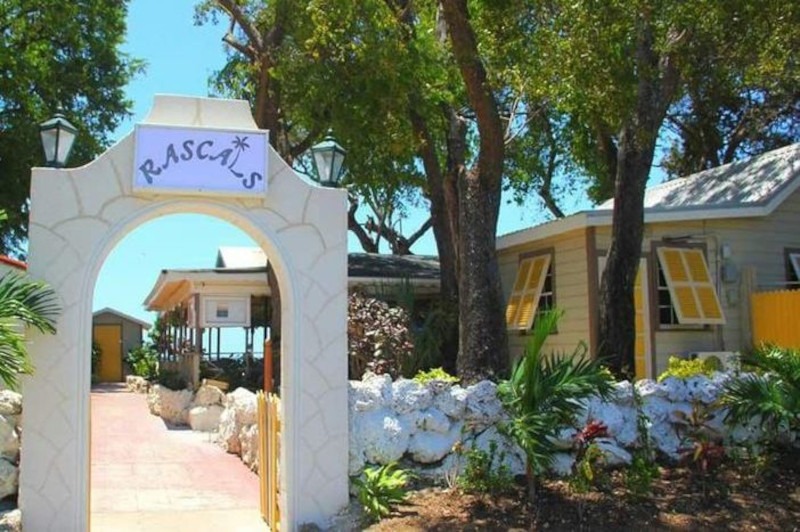 Rascals Beach Bar located on the beautiful Brandon's Beach in St. Michael is the closes beach bar to the Bridgetown cruise terminal. This makes this bar the ideal location for visitors who drop into the island on the many cruise ships every year. There is a wonderful daily menu at Rascal's on the Bay served à la carte.
This gives you some fabulous dining options on any given day. At this Barbados beach bars You can choose from fish cakes, chicken tenders, samosas and coconut-crusted shrimp for appetizers.
If you are a pasta lover, there is some kind of pasta dish available every day. The main course each day is wonderfully prepared dishes like Cajun chicken, grilled fish or chicken and barbecue ribs make the stop over worth it. And don't forget to check for any lunch break specials that are on offers. Learn more about Rascals Barbados beach bar and restaurant.
---
Pirates Cove Beach Bar – Barbados Beach Bars
---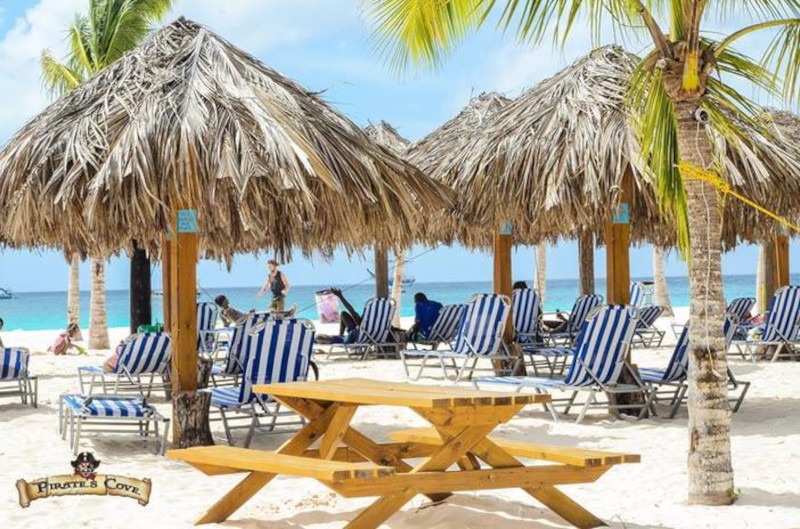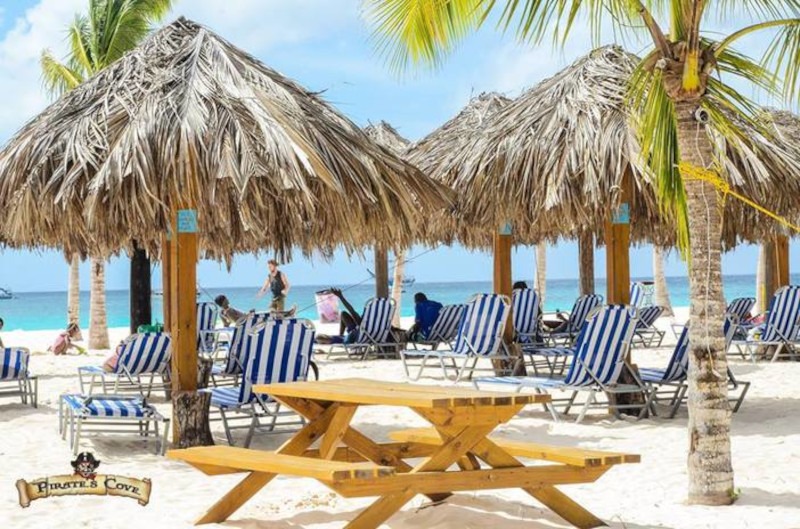 Of all the Barbados beach bars Pirates Cove is a must visit whether you are a local or a visitor on holiday to our island paradise. Pirates Cove is a relatively new beach bar & grill located at the northern end of Brownes Beach. This location places it right in Bridgetown two minutes' walk from the main shopping center on Broad street.
So it's perfect if you want to take a break from your shopping and hang out and enjoy Music, a full bar with beer, cocktails and frozen drinks, light snacks & lunches with views of the pristine white sand beautiful Ocean just a short distance away.
---
The Boatyard – Barbados Beach Bars
---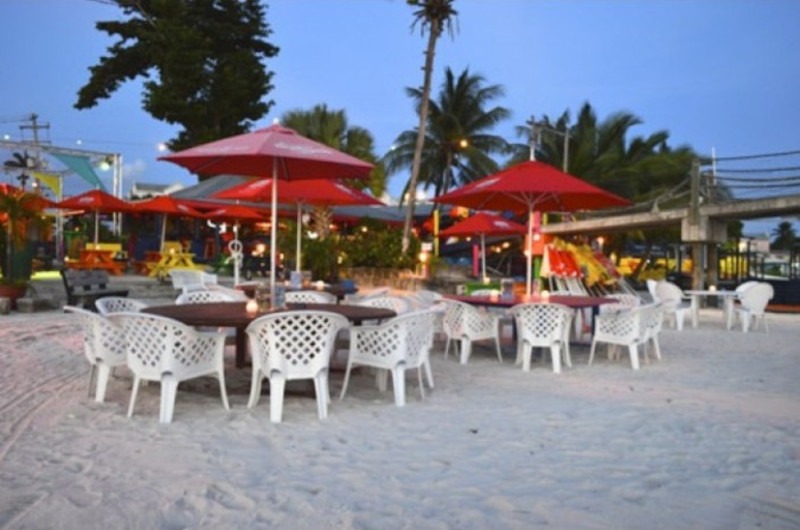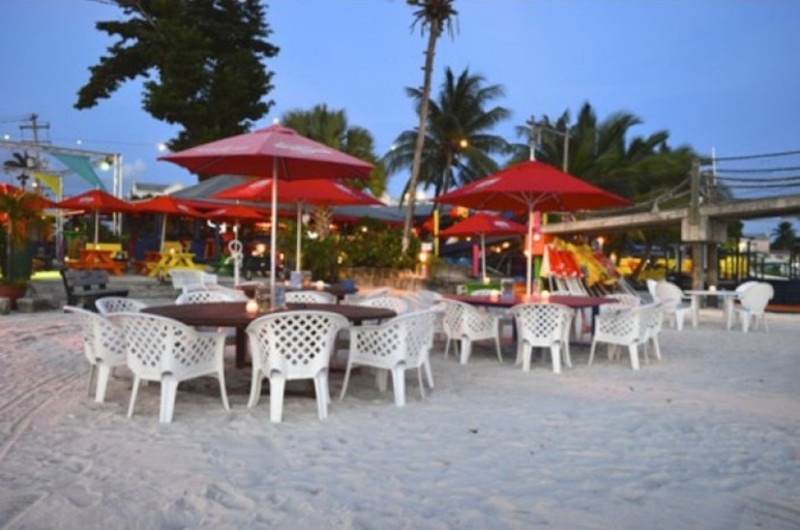 The Boatyard Barbados is more than a beach bar but truth be told it is perhaps the most fun spot on the island… whether it is a beach bar, a night club or restaurant it is the place to be. You'll find this Barbados beach bar centrally located on a spectacular white sandy beach on the outskirts of the historic capital Bridgetown…
It is the perfect place to relax and enjoy the sea, sun, sand and the Bajan hospitality while sipping a local rum punch. Widely regarded as the liveliest beach bar on the island day or night the Boatyard has capture the essence of Barbados beach culture… It is definitely the place to be.
---
Copacabana Beach Bar & Grill
---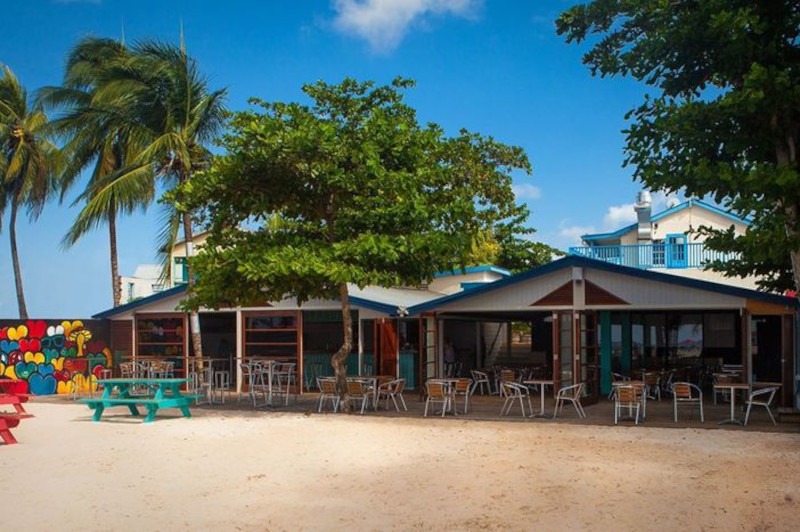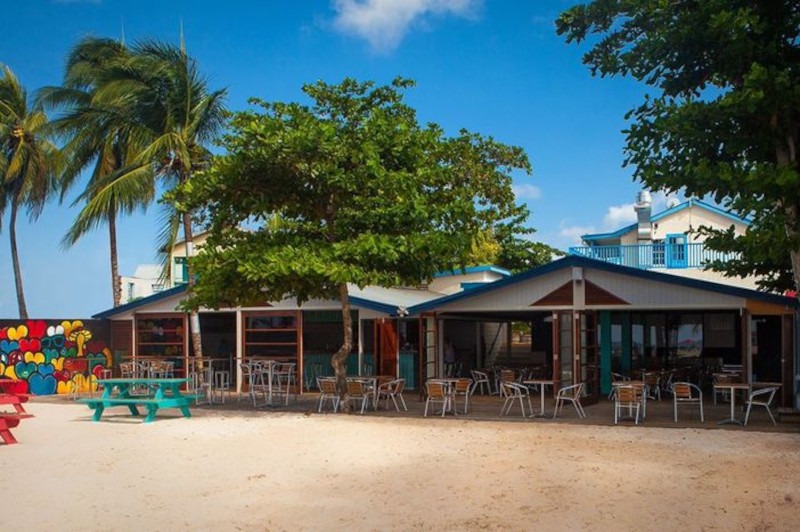 Copacabana is an action pack beach bar and grill located on a white sandy beach a short distance south of Bridgetown. As they say every hour is happy hour at this beach bar where the house DJ keeps you rocking to the island's favorite jams.
On offer are a delicious range of bajan dishes, as well as the various barbecue offerings like chicken, hot dogs, hamburgers, fish, and more. The atmosphere at the Copacabana beach bar is very laid back with beach chairs and umbrellas
---
Dipper's Beach Bar – Barbados Beach Bars
---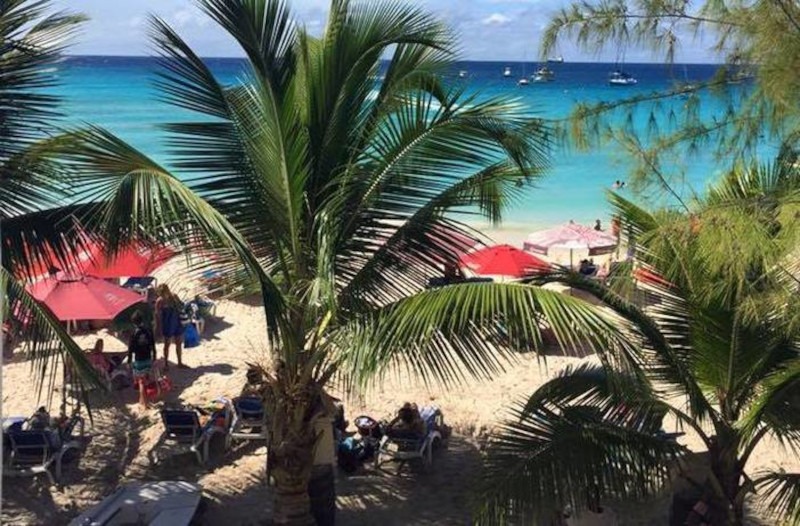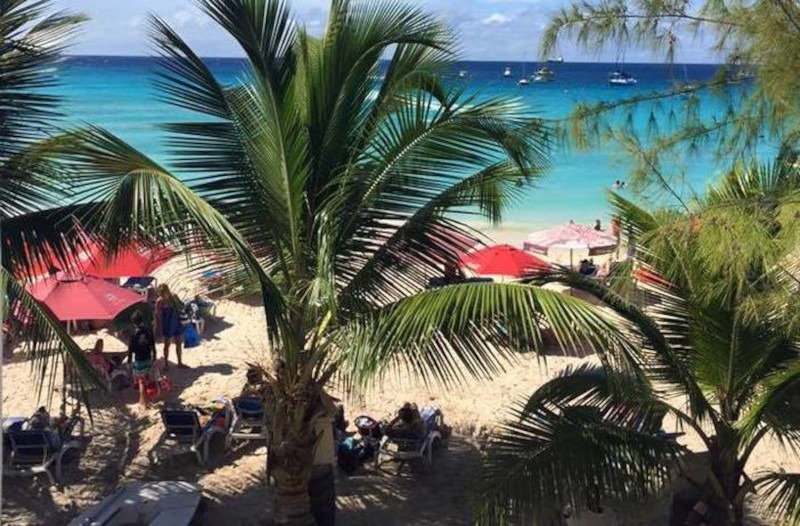 Dippers Beach Bar is located at the Barbados Cruising Club on Pebbles Beach, Dipper's is a great place to relax and enjoy a cold drink and delicious affordable food. Family fun on Pebbles Beach doesn't get any better as you enjoy the crystal clear water and the idyllic sandy beach of Carlisle Bay.
And it's not just about amazing food and cocktails; there are activities for everyone these include the Quiz Night on Wednesdays, Sunday evening acoustic music sets and to top it off the last Saturday of each month there is Sunset Jazz on the terrace .
---
The Tiki Bar – Barbados Beach Bars
---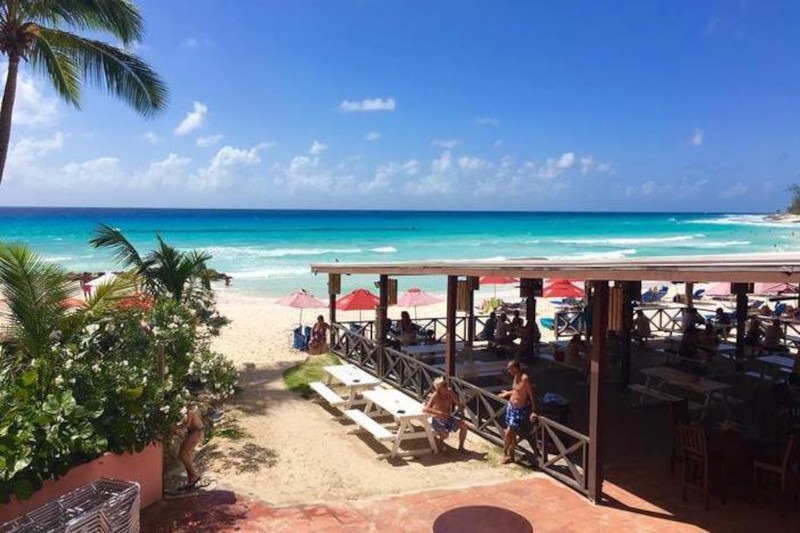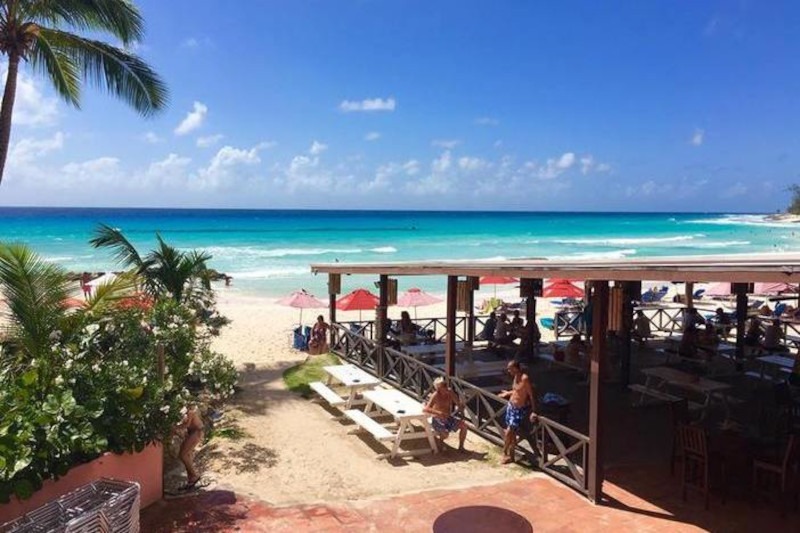 The Tiki beach bar is a casual bar and restaurant located on the water's edge on beautiful and very popular Rockley Beach on Barbados' south coast. The Tiki Bar boasts an astounding array of cocktails, along with a fantastic fresh menu crafted using the very best of local products.
So bring your swimsuit and enjoy one of the most idyllic tropical settings you'll find anywhere on the island. You'll also will be entertained by the sweet strains of Live Music along with the house Dj's playing your favourite.
---
La Cabane Beach Bar and Restaurant
---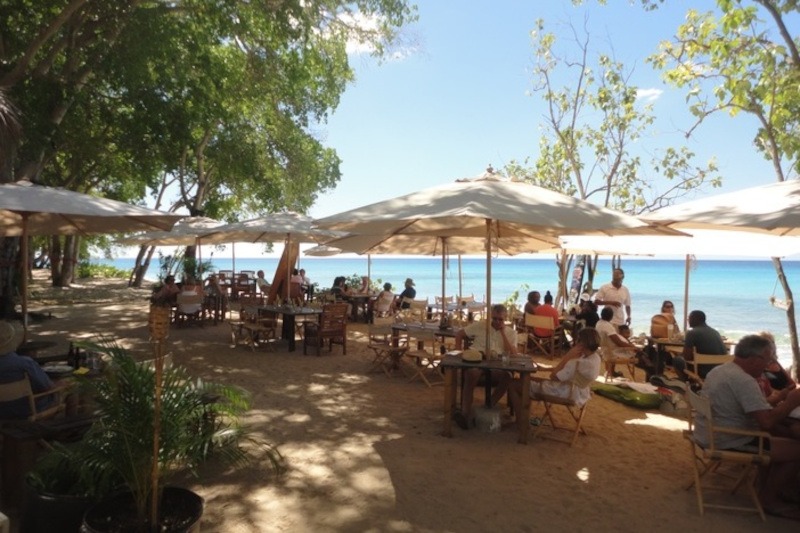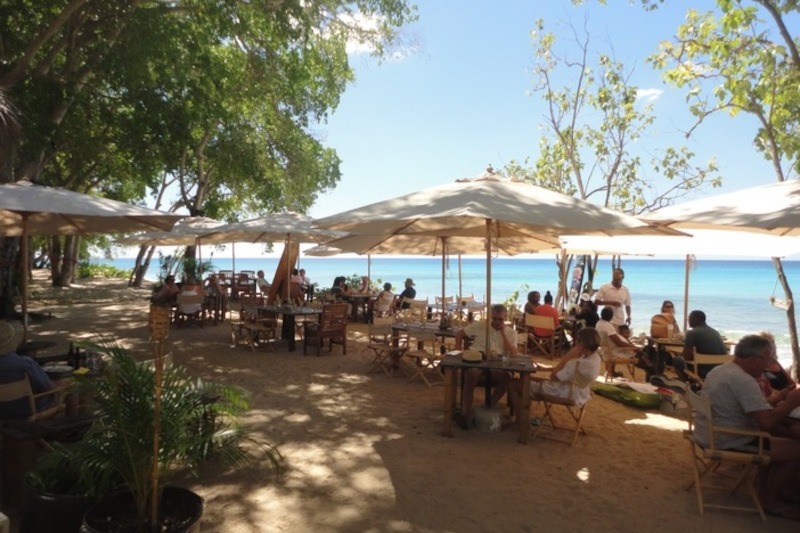 La Cabane Beach Bar is a quaint relaxing bar and restaurant located on the gorgeous white sandy Batts Rock beach on Barbados west coast. Surrounded by lush tropical vegetation this Barbados Beach Bars is popular spot for both locals and visitors.
Open seven days a week the La Cabane is an excellent place for lunch or dinners… It is the ideal place to celebrate your special occasions or just relax and enjoy the vibe.
The outdoor setting and breathtaking beauty of the perfect beach is further enhanced by the casual dress code which adds to the relaxed laid back atmosphere. This delightful beach bar and restaurant is open Monday to Sunday / Bar – 11:30am to late & Kitchen 12:30pm – 9pm. Learn more about La Ccabane beach bar and restaurant