The Blue Horizon Hotel Barbados is a quaint charming small hotel located across from the popular Rockley Beach on Barbados south coast. Brightly painted in exotic calypso colours the Blue Horizon is your typical Bajan hotel.
This 70 room hotel is conveniently located about 20 minutes from the Grantley Adams International Airport. 10 minutes to The Oistin's Friday Night Fish Fry, 5 minutes to St. Lawrence Gap with all its nightlife and 20 minutes to Bridgetown, with all its duty free shopping.
This is a good budget hotel with a wonderful ambiance which creates a laid-back atmosphere that's allows you to un-winded while on holiday. Its main amenities include a restaurants, on-site conference center, fresh water swimming pool and complimentary water sports. You can read guest reviews about Blue Horizon Hotel Barbados.
---
---
Blue Horizon Hotel Frequently Asked Questions
---
Blue Horizon Hotel Hotel in Barbados is located across from the popular Rockley Beach on the south coast.
Top room amenities at Blue Horizon Hotel in Barbados include 32-inch flat-screen TV. Kitchens are fully equipped with cooktops, large refrigerators, and crockery.
Check-out at Blue Horizon Hotel is 12 pm
---
Blue Horizon Hotel Barbados Deluxe Room Suites
---
The deluxe one-bedroom suites are spacious elegantly appointed guest rooms offering guest a choice of views, ranging from garden, pool to partial ocean views. In addition there is a balcony or patio in a setting which features modern décor elements and the comforts of home.
This suite has separate bedrooms which include a king size bed a queen sofa bed in the sitting area. Other amenities include a 32-inch flat screen TV, fully equipped kitchens with cook tops, large refrigerators, and sets of crockery/glassware to serve four. Read guest reviews about the suites at Blue Horizon Hotel in Barbados.
---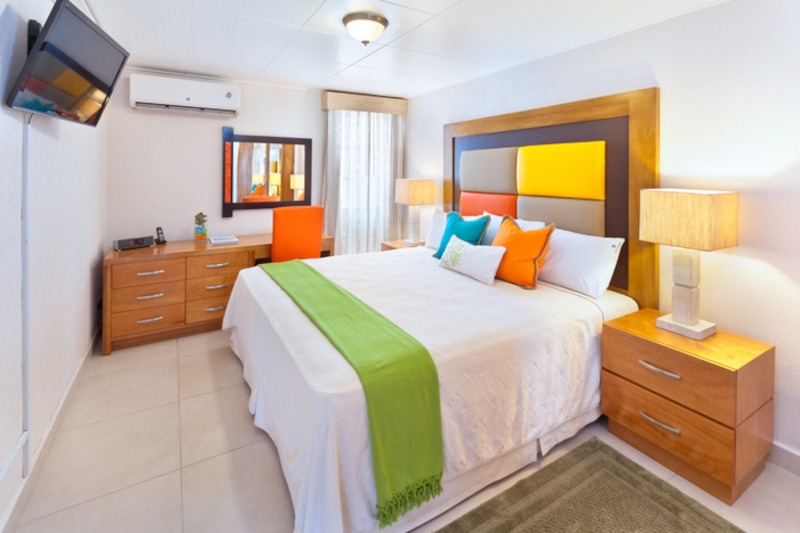 ---
BLUE HORIZON HOTEL BARBADOS SUPERIOR AND STANDARD ROOMS
---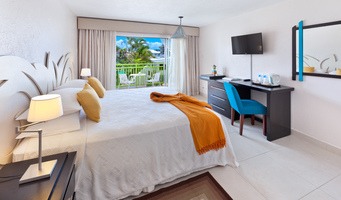 The superior rooms offer pool, garden or partial ocean views and are ideal for business travelers particularly those on an extended stay.
These brightly decorated rooms are comfortably furnished with king beds and feature kitchenettes with mini refrigerators, microwaves and tea/coffee-making facilities.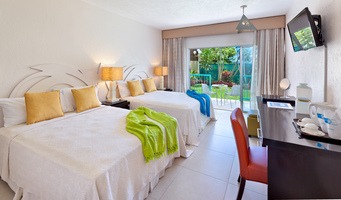 The standard rooms at Blue Horizon offer guest views of the garden or pool from well appointed rooms which come with either a balcony or patio.
These rooms can accommodate up to four (4) adults , the rooms feature one (1) king or two (2) double beds.
---
AMENITIES AND ACTIVITIES AT BLUE HORIZON HOTEL BARBADOS
---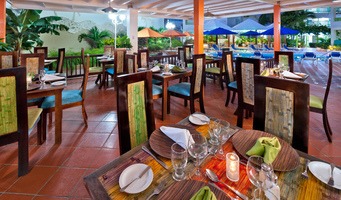 The Blue Horizon is surrounded by a number of fabulous restaurants and eateries but the hotels own Restaurant which serves a Creole & Local dishes can meet your dining needs.
The Courtyard Restaurant is located on a spacious outdoor patio by the pool. Delicious specialties are available, as well as an innovative combination of Creole and local cuisine. A variety of savory international fare.
The bar offers popular drinks including an international wine list. Although The Courtyard restaurant is the hotel's only dining spot there are a number of great Barbados restaurants close by.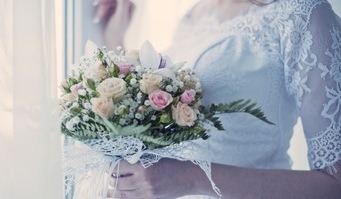 Blue Horizon Hotel fall under Gems of Barbados Resorts and their tropical Barbados weddings provide the special treatment you deserve on your wedding day, including your own wedding consultant and breakfast in bed the next morning.

So if you are planning that special day there may be no better place than the Blue Horizon for that "Wedding in Paradise you will never forget.
The wedding will take place at the Blue Horizon, any local church or any of the other Gems properties. So make that tropical dream wedding a reality. There is no better way to start your life together.
---
BOOK YOUR STAY, OR READ REVIEWS AT BLUE HORIZON BARBADOS
---
To book the best rates for your special Blue Horizon Hotel Barbados holiday enter your information into the search box below. This special Booking engine will search all of the popular booking sites and bring back the best rates.
If on the other hand you would prefer to read what other guest to the popular Blue Horizon Hotel had to say about their stay. You may Click Here to read their reviews and recommendations on Booking.
---
Accra Beach Barbados Is A Short Distance Away From Blue Horizon Hotel
---
The Blue Horizon hotel is located across the street from the popular Rockley Beach also known as Accra beach Barbados. This picture perfect beach is extremely popular with the locals, especially on weekends and public holidays, when people from all over the island travels to Accra Beach to picnic, body-surf and bathe in the calm waters.
The popularity of Accra Beach is enhance not only by the number restaurants and other amenities found in close proximity to the beach but by the friendly laid-back atmosphere. You may click Here to learn more about Accra Beach Barbados.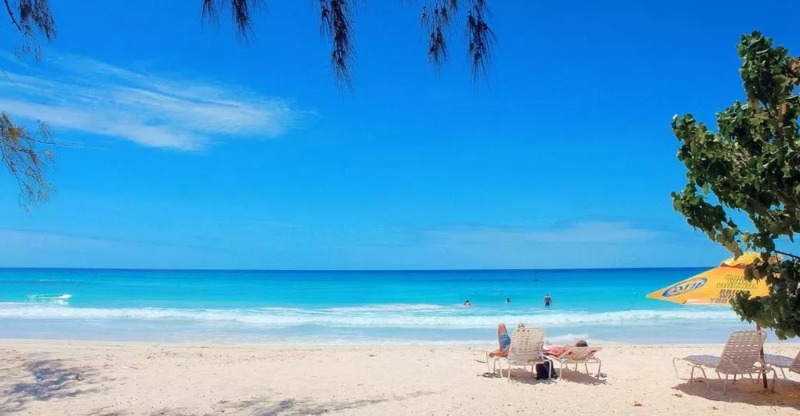 ---
Restaurants and Bars Close to Blue Horizon Hotel Barbados
---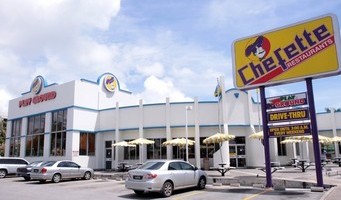 Chefette Restaurants have an extensive menu which include boasted chicken, pizzas, rotis made with genuine curry from India, burgers, ice creams and so much more. Learn more about Chefette Restaurantts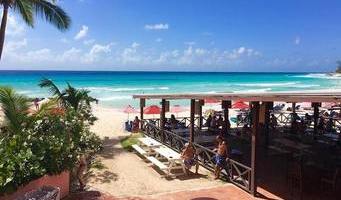 The Tiki beach bar is a casual bar and restaurant located on the water's edge on the beautiful and very popular Rockley Beach on Barbados' south coast. Learn more about the Tiki Bar
---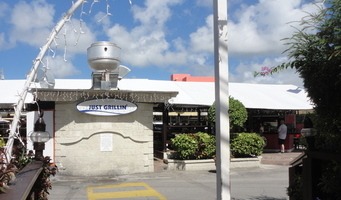 Just Grillin Restaurant Barbados is a relaxed open air restaurant located in the Quayside Centre on Hasting main road a short distance away from the popular Accra Beach on Barbados south coast. Learn more about Just Grillin Restaurant Barbados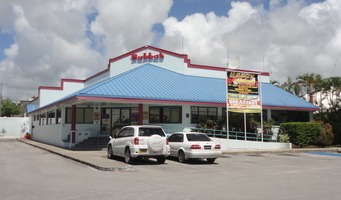 Bubbas Sports Bar and Restaurant is regarded as one of the finest sports bars and restaurants on the island. Located on the action pack south coast this restaurant offers an unbeatable combination of atmosphere and cuisine. Learn more about Bubbas Restaurant Barbados
---
Other Accommodation Close to Blue Horizon Hotel
---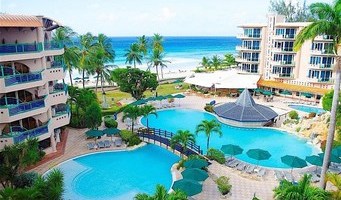 Accra Hotel Barbados is conveniently located approximately 1 minutes from Blue Horizon Hotel Barbados.
Learn more about Accra Hotel Barbados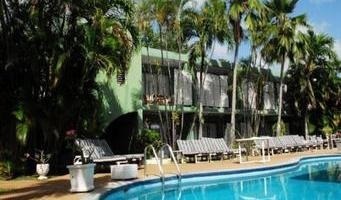 Pirates Inn Barbados is conveniently located approximately 3 minutes from Blue Horizon Hotel Barbados.
Learn more about Pirates Inn Barbados