The Barbados Beach Club hotel is a Family Resort located on Barbados south coast, about 5.5 miles from the Grantley Adams International Airport. It is also situated within close proximity to The Oistin's Friday Night Fish Fry, St. Lawrence Gap with all its nightlife and Bridgetown, which is about six miles away from the hotel. This 112-room family Resort is situated on one of the south coast spectacular white sand beaches.
The guest rooms extend onto balconies, most with fabulous ocean views. Each room also has a number of amenities, which include cable television and telephones. A minibar can also be found in every room along with Mexican-print fabrics, light-toned tropical furnishings and tile floors.
All of the bathrooms have both a shower and a tub. You can read guest reviews about the Beach Club Barbados Set amidst on 1.25 acres of tropical gardens the Beach Club is a Family Resort has everything you'll want in a beach resort.
Guest has access to 24-hour reception and checkout service, and currency exchange facilities. Its amenities include three restaurants, golf facilities and over a dozen different water sports, there is little this resort doesn't offer its guest. You can read guest reviews about Barbados Beach Club
---
---
---
Barbados Beach Club Frequently Asked Questions
---
---
The Ocean Front Suite King Bed at Barbados Beach Club
---
The honeymoon room is a specialty room features a beautifully crafted mahogany four post bed and nightstands. The room features an elevated ocean and pool view with 1 king bed and can accommodate a maximum of 2 adults. Sturdy Purple Heart doors lead out onto the large private balcony providing excellent noise reduction and peace of mind. Read guest reviews about the suites at Barbados Beach Club.
---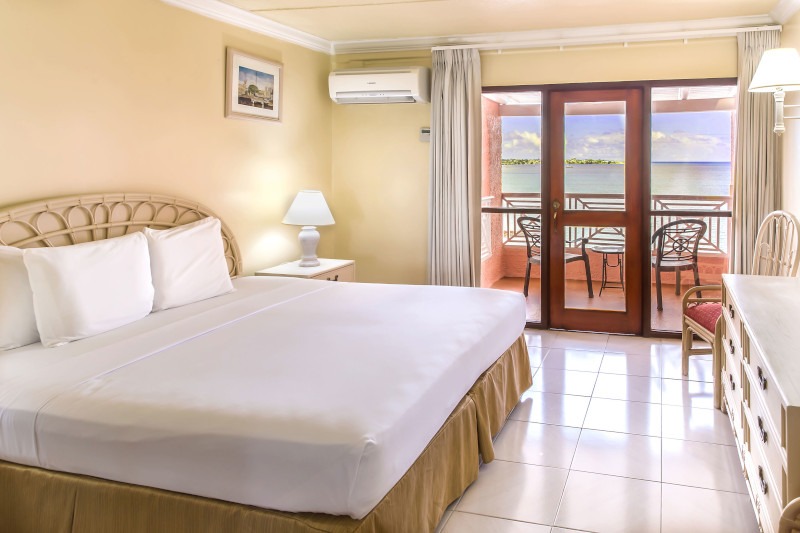 ---
THE BARBADOS BEACH CLUB SUPER DELUXE AND PENTHOUSE SUITES
---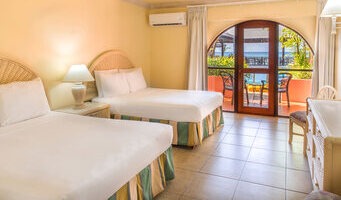 The Super Deluxe can either be Ocean, pool or ocean or pool view with one king or queen size bed. The Deluxe room comes with two double beds, ocean or pool view and general amenities.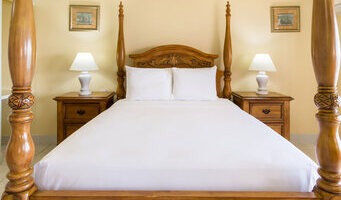 The penthouse rooms are top floor suites perched 7 stories high and boast 3 breathtaking ocean views. Suites have a four post queen beds and can accommodate up to 4 adults.
---
AMENITIES AND ACTIVITIES AT BARBADOS BEACH CLUB
---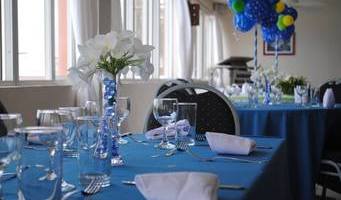 Although there is an onsite restaurant serving breakfast, lunch and dinner at the Coral Sands resort. Guest are not limited to dining on property since there are a number of excellent restaurants only 10 minutes walk away in the Gap.
This allows guest to sample some of the delightful recipes on offer at these world class Barbados restaurants. In addition a number of restaurants can be found along the coast road in close proximity to the Coral Sands.
These restaurants include The Lucky Horse Shoe, Bert's Bar and Restaurant and the Chicken Barn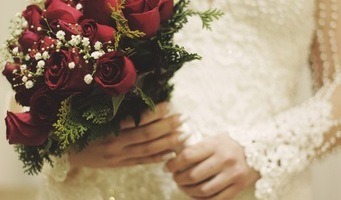 There are two types of wedding packages available at the Coral Sands resort… Coral Sands' Fun in Sun Wedding and Coral Sands 'I do' specially designed to meet all your needs.
So if you are thinking about stunning Barbados wedding whether beach, pool deck or garden… witness by friends and loves.
The Coral Sands resort is the perfect destination for you. The hotels stunning tropical beach or pool deck and gardens overlooking the beach are the ideal spots for your Barbados wedding.
---
BOOK YOUR STAY, OR READ REVIEWS AT BARBADOS BEACH CLUB
---
To book the best rates for your special Barbados Beach Club holiday enter your information into the search box below. This special Booking engine will search all of the popular booking sites and bring back the best rates.
If on the other hand you would prefer to read what other guests to the popular Barbados Beach Club had to say about their stay. You may Click Here to read their reviews and recommendations on Booking.
---
Visit The Beach At Barbados Beach Club
---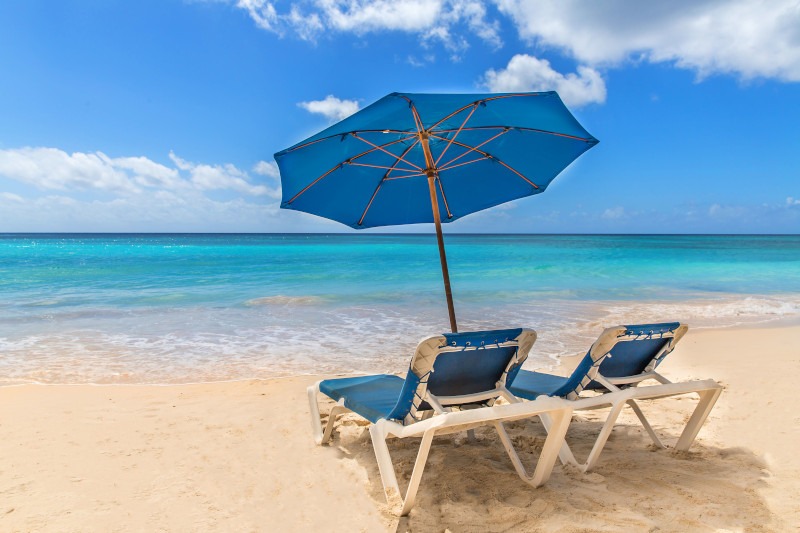 ---
Restaurants in Close Proximity to Barbados Beach Club
---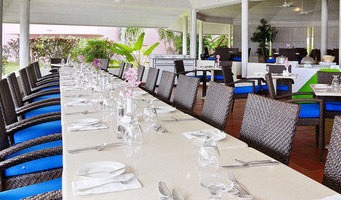 The Garden Terrace Restaurant located at the Southern Palms Beach Club in St Lawrence Gap. This restaurant overlooks a magnificent stretch of white sandy beach, that perfectly compliments their a la carte dining night. Learn more about Garden Terrace Restaurant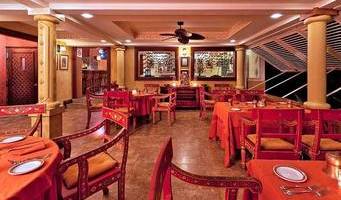 Apsara Restaurant You'll find this fine dining restaurant tuck away amidst beautiful gardens and dining gazebos on a cliff a couple feet above the water… at what can only be describe as the best seaside location on the island. Learn more about Apsara Samudra Restaurant
---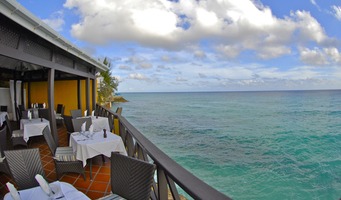 Champers Restaurant and Wine Bar is one of the leading restaurants on Barbados South coast. The restaurant possess a breathtaking cliff-top setting with an outdoor bar that overlooks the popular Accra beach. Learn more about Champers Barbados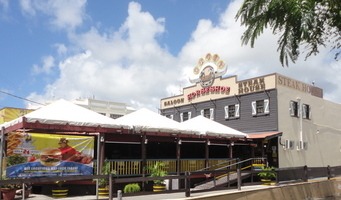 Lucky Horseshoe Saloon and Steakhouse is a casual American theme eatery, with a unique 24 hour menu. This menu feature breakfast, lunch and dinner served around the clock by pleasant friendly staff. Learn more about Lucky Horse Shoe Saloon and Steakhouse
---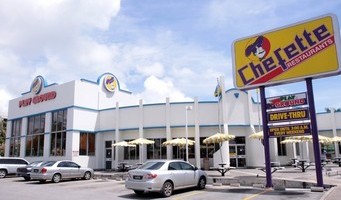 Chefette Restaurants have an extensive menu which include boasted chicken, pizzas, rotis made with genuine curry from India, burgers, ice creams and so much more. Learn more about Chefette Restaurants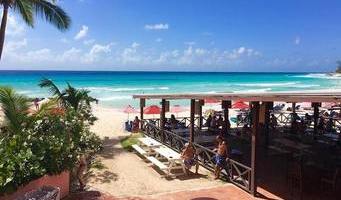 The Tiki beach bar is a casual bar and restaurant located on the water's edge on the beautiful and very popular Rockley Beach on Barbados' south coast. Learn more about Tiki Bar
---
Other Hotels Close to Barbados Beach Club
---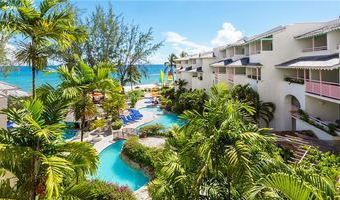 Bougainville Beach Hotel Barbados is conveniently located approximately 2 minutes from Barbados Beach Club
Learn more about Bougainville Beach Hotel Barbados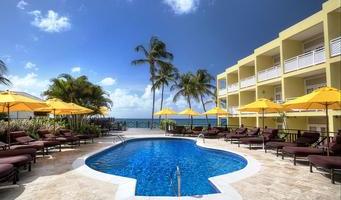 Sea Breeze Beach House Barbados is conveniently located approximately 2 minutes from Bougainville Beach Hotel Barbados
Learn more about Sea Breeze Beach House Barbados