The Bajan coconut bread is one of the delights of any Barbadian kitchen. Traditionally the neighbourhood would be alight with the pleasant aroma of the coconut sweet bread being baked on Sunday afternoons. Whether it is a heavy coconut bread or a light one, the sweet bread as it is called remains a favourite in homes and restaurants across the island.
Especially at Christmas and other special occasions… with this recipe, you no longer have to go to the bakery every time you want a piece of Barbados coconut sweet bread. You can simply make this delicious treat in your own kitchen.
---
Bajan Coconut Bread Frequently Asked Questions
---
Substituting the specified ingredients in the recipe may change the final outcome, so I would not recommend replacing any of the ingredients listed in the Bajan Coconut Bread.
Traditionally persons baking the Bajan Coconut Bread would prepare the coconut by grating a whole coconut, however, you can use the pre-grated packs of coconut found in the supermarket freezer.
Yes, you may if you are on a low-sugar diet you can reduce the amount of sugar used in this recipe. Simply adjust sugar levels to suit your dietary needs and taste.
---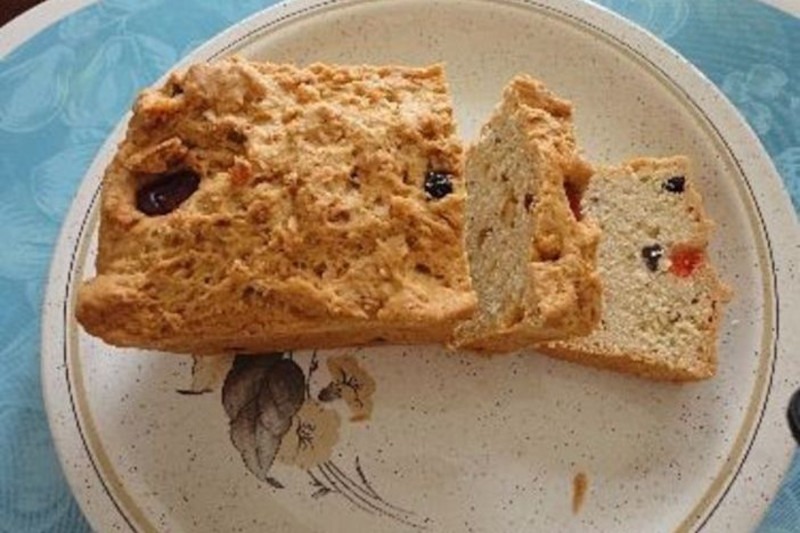 ---
Here is a recipe for Bajan Coconut Bread…
450g (1lb) flour
50g (2oz) margarine
50g (2oz) shortening
3/4 cup of water
175g (6oz) sugar
1 large coconut grated
1 teaspoon vanilla essence
3 teaspoon baking powder
175g raisins
Nutmeg grated/spice
1/2 teaspoon salt
1 egg
---
Bajan Coconut Bread – Baking Directions
---
Sift flour into a mixing bowl and add 4 ozs of sugar, shortening, margarine, baking powder, nutmeg, spice, essence, beaten egg, raisins and 3/4 of grated coconut and add water. Mix all ingredients together insuring that they blend well. Knead on a floured board until dough is firm cut and shaped into two loaves.
Take the remaining 1/4 of grated coconut, add 1 oz of sugar, add 1/2 tsp vanilla essence and mix thoroughly.
Using a knife cut through the middle of each loaf and add equal amounts of grated coconut mixed with essence and sugar to the center of each loaf and close the opening.
Put into greased loaf pans 2/3 full. Score the tops with a sharp knife, take the remaining 1 ozs sugar mix with a small amount of water and brush onto the top of each loaf. Bake in moderate heat in the oven until firm and brown.
---
Learn How to Bake Bajan Coconut Bread and More…
---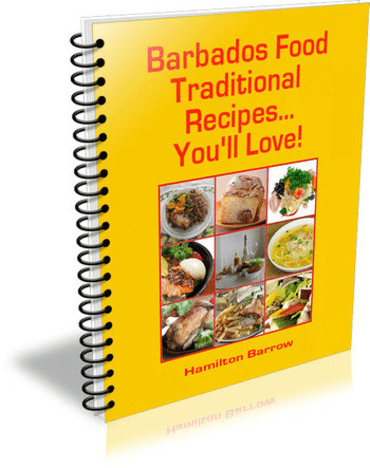 ---
Barbados Food… Traditional Recipes You'll Love! Both recipes are found in our electronic print guide to preparing Barbados Foods. This recipe guide includes many of the island's most loved recipes, including the recipes for the much-loved Barbados Macaroni Pie.
Each recipe contains detailed instructions on how to prepare and cook the Bajan way. The recipe e-book is available for download and print immediately, you can print the recipes as many times as you want and get FREE Updates every time we make changes to this book!
---
What You Will Find In This Ebook
---
Here you'll find recipes for
Breadfruit Cou Cou
Fried Flying Fish
Frizzed Salt Fish
Conkies
Jug Jug
Bajan Macaroni Pie
Barbados Great Cake
and so much more
Click Here to learn more about the BEST and most comprehensive guide to Traditional Barbados Recipes on the internet…