Are you tired of scoring dozens of internet sites looking for traditional Barbados recipes?
Then look no further this practical printable e-book is a complete guide on how to cook Barbadian food. Traditional Barbados Recipes is a downloadable e-book with over 70 pages of printable recipes, on how to cook Barbadian food.
This e-book includes dishes like Barbados green peas and rice, pudding and souse, bajan coconut bread, juj juj, sorrel drink and many more including the much loved Christmas delights. When you order all you have to do is download and print each recipe as many times as you wish….
Buy The $5.99 Traditional Barbados Recipe E-book Now!
---
---
Whats Included In Traditional Barbados Recipes
---
Delicious Starter recipes using flying fish, and other traditional Barbados foods.
How to prepare Barbadian Soup with all its additions like breadfruit, and split peas.
The very best way to cook Flying Fish and other fish found in the island's waters.
Discover the flavours that has made poultry the number one meat on the island.
How to make pudding and Souse, that brings back memories of grandma's cooking.
Learn which vegetables are an integral part of many traditional Barbadian dishes.
How to make popular desserts like Bajan sweet potato pie, bread pudding and conkies.
Pastries like banana bread, Bajan coconut sweet bread and Barbados rich fruit rum cake.
Sauces – simple easy to make sauces.
Drinks including the popular Barbados sorrel drink and the Bajan rum punch.
Christmas Menu featuring green peas and rice, Jug Jug, sorrel, sweet potato pie.
Here is what this delighted customer had to say about Traditional Barbados Recipes…
I had some friends over, so I prepared Black Pudding and Souse from the recipe in the electronic book. I wasn't sure how the dish would turn out but I was pleasantly surprise… It was wonderful!

It really brought back memories of Saturday mornings at my grandma's house in rural Barbados. Charles, Brooklyn, NY.
---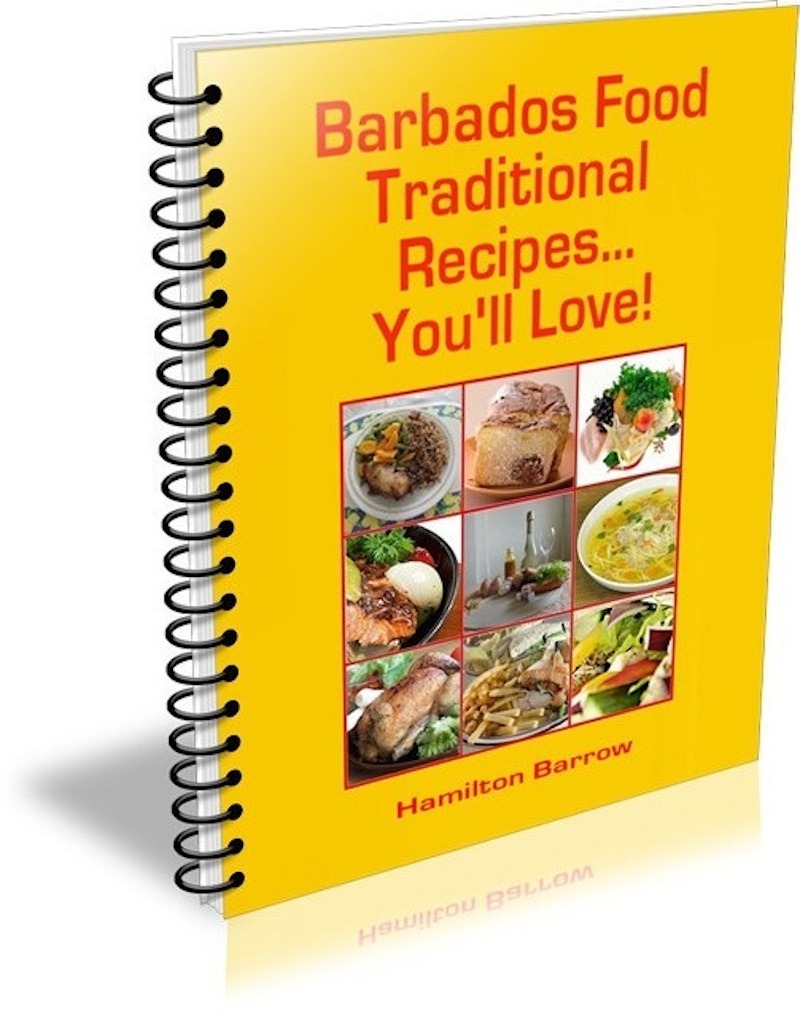 ---
Buy The $5.99 Traditional Barbados Recipe E-book Now!
---
---
Why a Downloadable E-Book Rather Than a Hard Copy Guide?
---
There are many benefits to using a downloadable PDF e-book over the traditional hard copy cook book…
First, you get instant access to your favourite Bajan recipes
You save time and money, there is no shipping cost or delays in the mail
Always up to date, you'll receive new recipes and modifications immediately.
No need to worry about your book being soiled in the kitchen.
You simply print the recipe you need on 8.5″ x 11″ paper, when you are ready to cook.
Here is what another happy customer had to say about Traditional Barbados Recipes…
The Christmas menu is a great addition to this wonderful collection of Barbadian recipes. I'll definitely prepare all of my favorites dishes this holiday season. Ann-Marie, London .
---
How To Get The Traditional Barbados Recipes E-book
---
Just pay $5.99 and download the e-book to your computer immediately…
Click on the Buy it Now button below
Pay securely through PayPal. If you don't have PayPal you can setup a
FREE account or pay direct through PayPal with your credit card or visa debit.
Once you click the pay now button you'll be taken to a page to download the e-book "Traditional Barbados Recipes".
Simply enter your Name and Email address on this page, you'll receive two emails one with the invoice. The other with a link to Download the recipe e-book
Save the email with the link.
If you encounter any problems please contact us.
The E book is in Adobe PDF
---
Buy The $5.99 Traditional Barbados Recipe E-book Now!
---