Kensington Oval is the headquarters of Barbados cricket… as a matter of fact many fans refer to Kensington as the Mecca of West Indies cricket. Just talk to any Barbadian old or young and you'll realize that there is more to cricket at this renowned venue than the cricket match.
A cricket match in Barbados is a real festive occasion whether it is a local or International match you'll be entertained with music, dancing, story telling, delicious Barbadian food, village characters and plenty of exotic rum flavour drinks. It's a real carnival!
---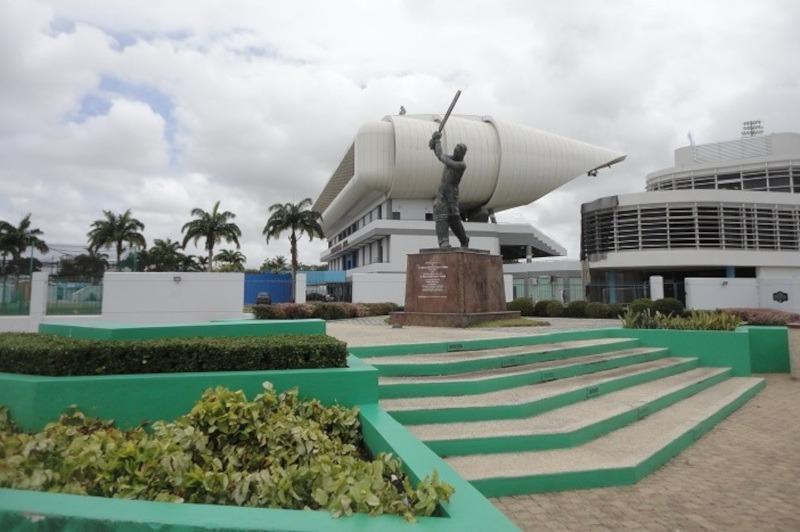 ---
A Love For Barbados Cricket
---
What you'll also realize is that there is a great love for Barbados cricket… actually like all Caribbean people Barbadians are crazy about cricket. You'll also realize that all most every Barbadian has played the game in some form or another.
Just take a browse through the cricket history books and you'll realize that there is more to the love for cricket on the island than playing in the gaps and villages. This small island has made a significant contribution to world cricket, having produced a number of cricketing legends.
Among these legends you'll find…
Sir Gary Sobers
Sir Frank Worrel
Sir Clyde Walcott
Sir Everton Weeks
Sir Conrad Hunte
Sir Wes Hall
Sir Charles Griffith
Sir Gordon Greenidge
All proof of a strong Barbados cricket tradition… but let's face it! Even with a number of cricketing legends and a world class cricket ground there is a bigger drawing card that lures thousands of people to Barbados every year.
If you guess a sports holiday you are correct Barbados does have the ideal conditions which allow fans to combine cricket with the best vacation ever.
---
In Barbados Cricket Is Played All Year
---
Barbados near perfect weather, beautiful beaches, spectacular turquoise waters and a world class mixed of accommodation… and of course nightlife activities you'll die for. All conditions that make the island the ideal destination for a cricket holiday.
So if you are a cricket fan you no doubt would be please to know that cricket is played in Barbados through out the year… but the highlight of the Barbados cricket calendar is the international cricket matches. These cricket matches take place between March and April… and usually includes a Test match, twenty20 and One day Internationals.
These matches are filled with excitement both on and off the field of play that's why thousands of cricket fans from around the world, travel to Barbados to be part of the cricket fever that grips the island. The main attraction for many of these fans is the rich history associated with the Kensington Oval brand.
---
International Cricket at Kensington Oval Barbados
---
The home of Barbados cricket is Kensington Oval. This small intimate cricket ground has been describe as one of the top three cricket grounds in the world. It has been the home of some of the most magical cricket moments dating back more than 70 years.
In recent times the strong tradition of cricket at Kensington Oval was given a boost when this charming venue host two of the most prestigious cricket events held in Barbados…
The 2007 ICC World Cup finals and the twenty 20 world cup in 2010. The finals of the 2007 World Cup saw two world-class teams compete for the ICC Cricket World Cup trophy, the world champions Australia up against Sri Lanka.
The winner of the T20 World Cup was England who defeated Australia by seven wickets. It was absolutely terrific. So book your accommodation and head over to the Barbados cricket leg of any tour to the West Indies I guarantee it will certainly be a treat…
---
BOOK A HOTEL FOR YOUR BARBADOS CRICKET TOUR
---
---
---
---
---